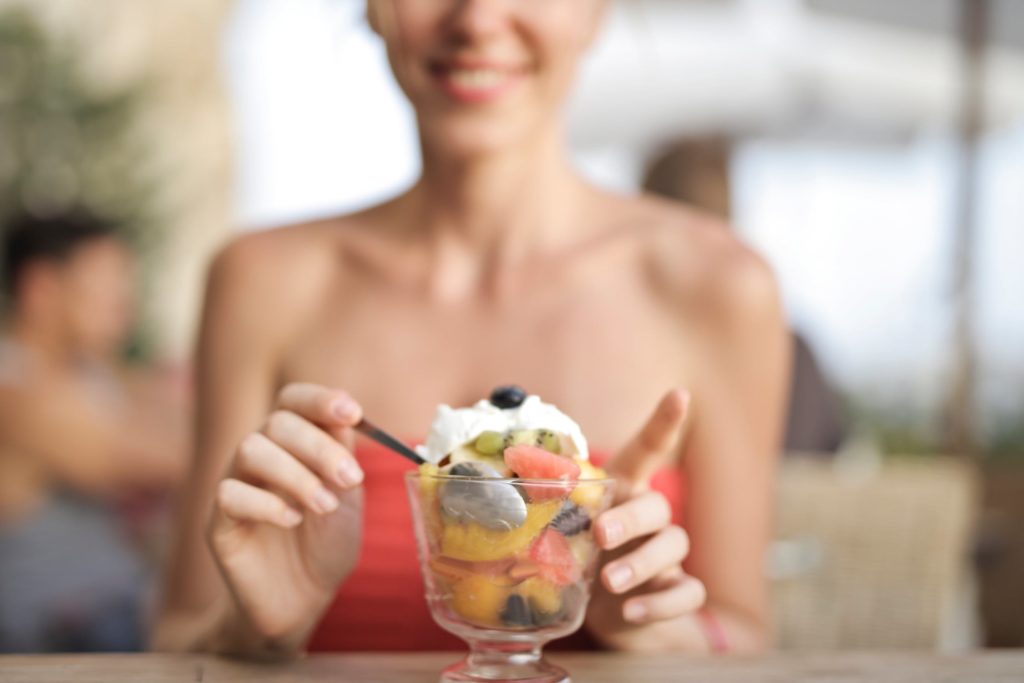 There are certain habits that have subconsciously become a part of our lifestyles that directly or indirectly contribute to weight gain. Thus, no matter hard we try in the gym, the progress is slower than expected for some of us. Most of these are relates to our eating behavior i.e. what we eat, how we eat, etc. Wondering what these habits are and whether you have adopted them or not? Continue reading!
Eating While Watching TV/Movie
Most of us are guilty of this, including me. I always want to have something on TV while eating food. This, certainly, isn't a healthy habit as it makes us eat more than we should have. The reason is that when we watch TV while eating food, our mind is distracted. It focusses more on what's on TV rather than food that is placed right in front of us. Consequently, we end up eating more and gaining more weight.
Using Large Plates and Bowls
On paper, it may not sound a big enough reason but it certainly impacts our weight. When we eat in a bigger plate or bowl, food looks less in quantity. As a result, more food is consumed, which affects our waistline. Try replacing these large plates with smaller ones and you will see a noticeable improvement.
The impact of using large plates and bowls has also been proved in studies as well. Hence, you seriously need to consider this aspect of eating food.
Not Having Enough Fiber & Protein in your Food
A balanced diet is key to a healthy lifestyle. Needless to say, if your food doesn't consist of certain components, it can prove to be unhealthy for you. There can be certain health implications caused by eating unhealthy food and obesity is one of them. Therefore, make sure food products you consume have all the necessary healthy components. If you want to lose weight, ensure it has enough fiber and protein in it. These components not only help to satisfy the appetite but support weight loss regime as well.
Having Midnight Snacks
We all know it yet we can't stop it. Midnight snacks seriously contribute a lot to weight accumulation. The reason why you need to control your midnight cravings is that we sleep right after having them, without doing any physical activity. Hence, our body doesn't get much time to digest them. As a result, they become a major reason for gaining weight.
Late Night Dinners
Health experts say that eating dinner late is not a healthy habit. The reason is the same as discussed in the above section – lack of time for our body to digest it. Therefore, from now on, make a point to have dinner early so that your body could digest it properly and it wouldn't impact your weight loss regime.
Eating Food After Grocery Shopping
Grocery shopping can prove to be a tiresome and time-taking task. Most of us head to the nearest eatery to satisfy our appetite right after grocery shopping. As our energy levels are on the lower side, we tend to eat more. This results in weight accumulation. The right thing to do is to eat food before you head to grocery shopping.
Confusing Boredom with Hunger
It's a been there, done that situation for most of us. Quite often, when we have nothing to do, we confuse our boredom with hunger and the result is a flabby stomach. So, the next time you are bored, indulge in some healthy activity instead of going to the kitchen to grab your favorite snack.
A Final Word
When it comes to weight loss, most people talk about regular exercise and having a balanced meal. However, they skip these important points discussed above. There are various aspects of lifestyle, particularly eating habits, which have a great impact on our body and weight accumulation. So, if you are trying hard to lose weight, make sure you aren't guilty of making mistakes we have discussed above. To speed up the process of losing weight, you can also take help of weight loss products available at TeamRoids. They have high-quality products from renowned brands available at cheap rates.