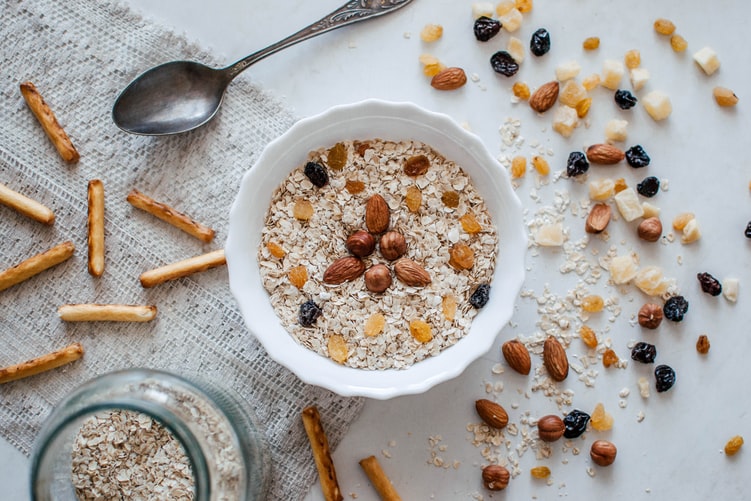 When you're running late in the morning, it can be tempting to grab a pastry and run out the door. But starting the morning with salty or sugary foods can make you feel sluggish and bloated as the day goes on. Skip the doughnuts and coffee and start your family's day off right with these healthy breakfast options. They're quick and affordable and don't take long to prepare, so you can feed your entire family and be out the door in no time.
1. Oatmeal
Oatmeal is a great way to start the morning. It's cheap and healthy and packed with nutrients, so you'll feel happy and energetic throughout the rest of the day. A bowl of plain oatmeal might not sound appetizing, but you can customize your oatmeal with any toppings you like. Try adding sliced fruit, nuts, maple syrup, cream, brown sugar, honey, and other toppings to turn your bland oatmeal into a delicious treat. And if you're running late and don't have time to cook up a pot of oatmeal, try serving a cup of instant oats with fruit for breakfast.
2. Eggs
Okay, fried eggs in grease aren't exactly the healthiest option. But eggs are jam-packed with protein and nutrients. Keep a stash of hard-boiled eggs in the fridge that you can grab at a moment's notice. They're healthy and delicious and taste great with a little salt. You can also whip up a batch of scrambled eggs or cook an omelet with some light, healthy ingredients like vegetables and low-fat cheese. If you want to try something different, serve soft-boiled eggs with strips of toast for dipping.
3. Avocado Toast
You've seen plates of avocado toast all over social media–now it's time to try it for yourself. Avocados are buttery and creamy and the perfect healthy addition to a plate of toast. You can slice the avocados and arrange them on the bread or mix them into guacamole and spread it over the toast. If you want to get more protein in your diet, try adding a fried egg on top. It's a light but filling way to get all the energy you need to keep going throughout the day.
4. Yogurt Bark
Your kids might balk at the thought of eating yogurt for breakfast. But what if you served tasty yogurt bark complete with fruit and nut pieces? They might feel like they're eating white chocolate for breakfast. The process is simple: spread some yogurt on a cooking sheet, add sliced fruit, nuts, honey, and other toppings, and throw it in the freezer. When it's frozen solid, you can cut the yogurt into pieces of bark and enjoy a healthy, portable snack on the go. Just make sure you bring a napkin because the yogurt might start to melt if you're sitting in a hot car.
5. Exotic Fruit
Again, your kids might not like the idea of eating fruit for breakfast. But imagine their surprise when you bring out a tray of colorful, exotic fruits like golden berries, pomegranate seeds, dragonfruit, dates, rambutans, and anything else you can find at the store. Your family will enjoy experimenting with different fruits and discover new favorites that might become a staple in your household. Plus, you'll have fun looking for new fruits to try when you go shopping at the grocery store. It's a fun, exciting way to get everyone in your family to eat healthily.