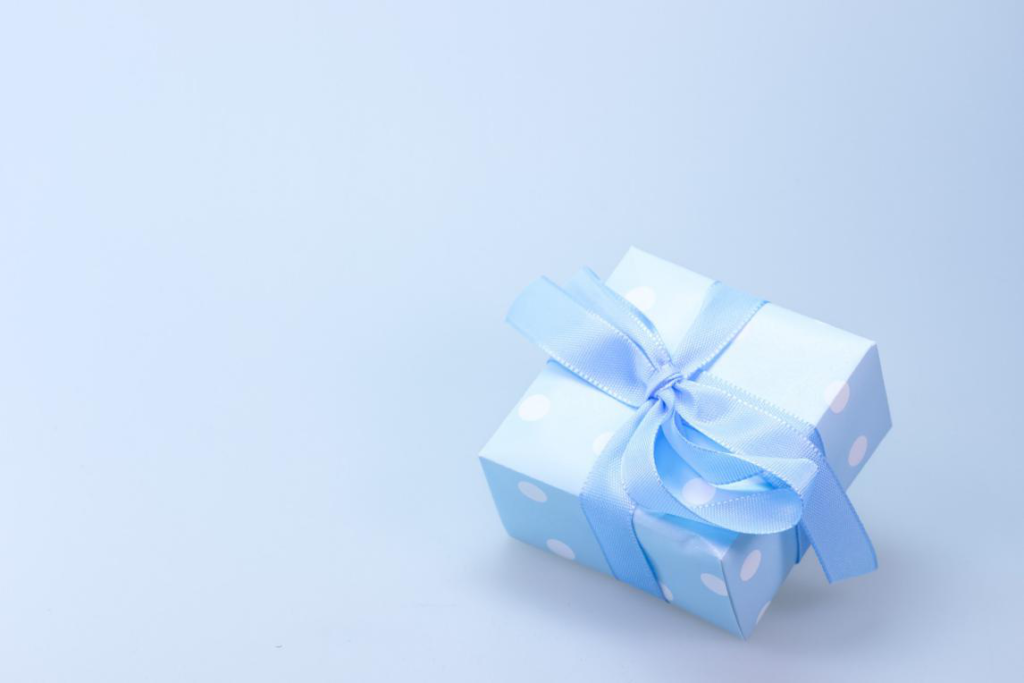 Do you and your man feel more like roommates than lovers?
Love flows in many phases. Most of us start out a relationship, bursting with passion and desire for our partner. But, then once each of you become more comfortable, a companionship love develops.
However, sometimes the companionship phase, can result in a loss of intimate connection. Instead of giving them a kiss and hug, you might just tell them to take out the trash. Or, you may find yourselves sitting at opposite ends of the couch instead of snuggling up.
No matter why your fire has withered, romantic gifts for him can help to reignite your passion.
Men want to feel adored, respected, and sexy just like women do. They may not always express these needs or be aware of them, but men need passion too.
Help him to bring out his passionate side by encouraging it with a romantic gift. Depending on your relationship dynamic, some gifts may seem like more of a joke than a serious romantic gift.
But, by being confident in your gift giving and starting small, you can reawaken and enhance the connection. Read on to discover the perfect romantic gifts for him based on your relationship dynamic.
Heat it Up!: Romantic Gifts for Him
Do you joke a lot with your partner? Do you enjoy sharing intellectual conversations?
Not all men are comfortable talking about the bedroom. Some prefer romantic gestures instead of raunchy ones.
Explore the following romantic gifts for him best suited for him and your relationship.
1. Ego-Boosting Gifts
A little bit of an ego-boost never hurt anyone! Boost his ego by getting him a funny, romantic, or sexy ego-boosting gift such as Rad power bikes coupon. An ego-boosting gift will tell him something to boost his confidence and make him feel like a true, masculine man.
For example, get him a t-shirt that says, "my girlfriend loves my muscles." Or a mug that says, "Thanks for Last Night."
These gifts are best-suited for the guy who has a sense of humor. It would be great for a couple who talks freely about any subject.
2. Boxer Briefs
Don't just get him any underwear. Get him some briefs that make him feel sexy and good about himself. They should be special, well-made, and sleek.
They shouldn't be something you can just pick up at your local department store.
For example, check out this brief collection.
A nice pair of briefs is equivalent to lingerie for women. They can make him feel like a new man. And with this "new man feel" expect for the passion and fire to heat up.
This gift is well-suited for any man. But, especially, for a man who enjoys taking care of himself.
3. Star Map
Are you dating a romantic at heart? Is your man obsessed with nature and science? Do you enjoy stargazing together?
If so, a star map will make your man's heart melt. It will make him feel special and loved. It will let him know exactly how you feel about him and that you see him for who he is.
A star map could be of his zodiac sign or based on where the stars were the night you met. This gift is perfect for lovey-dovey couples who enjoy sharing their feelings with one another.
4. Love Notes
Are you and your man sentimental? Does your man crave hearing you say, "I love you?"
Then, make him a box of love notes. The box of love notes can be pre-made or you can create them from scratch. The pre-made love notes will provide you with prompts in case you get writer's block.
Put as many love notes in the box as you see fit. Prompt him to open them up on certain days or all at once.
5. Sexy Truth or Dare Game
Truth or Dare?
A sexy truth or dare game is perfect for the couple who has a wild streak. This couple is completely comfortable with one another and enjoys talking about sexy time.
The sexy truth or dare game will certainly help you to spice things up in the bedroom. Especially, if the two of you have gotten into a routine or run out of fun, new ideas.
This game can also help you to learn more about one another. You can purchase this game pre-made or make up the truth or dare scenarios yourself.
6. Customized Goodies
Customized gifts come straight from the heart. They include a message that is completely unique to your man and your relationship.
These types of gifts are great for any couple. They can communicate special quirks, inside jokes, or sayings you use as a couple.
For example, get him a customized wallet card that expresses how you feel about him. Or, get him a bracelet, necklace, or wall decor with a personalized message.
A pocket watch from Dalvey that you can get engraved with your special date, a short message or intials makes a great gift for men. 
If your man is into liquor, get him a personalized gift basket with whiskey or bourbon gifts. You can even enjoy it together on a Friday night while chilling to your favorite movie.
Make any customized gift you choose deeply personal. This gift is great for any couple. It's also especially beneficial for couples who maybe don't express themselves as much or haven't in sometime.
This gift will serve as a forever reminder of how you feel about them and what you value about your relationship.
7. Massage Kit
Who doesn't love a good massage? Your man works hard and he's likely sore because of it. Massages are great for promoting intimacy, connection, and trust.
So, get him a massage kit which include oils, lotions, and a book of different massage techniques.
Set up enough time when the two of you can be alone. Then treat him to a long massage that will reignite the passion and love between you.
8. Sexy and Romantic Role Playing Gifts
If you and your SO are the adventurous types, you may want to take the lead for another racy and saucy role-playing night.
Surprise him with a risqué, eye-popping, cute cop costume or step up from the usual by stepping out in a form-fitting, medieval-esque attire. It's perfect for keeping your bedroom affairs exciting.
Romantic Gifts for Him: Which Would Your Guy Love?
Buying the perfect romantic gifts for him can be a challenge. To make it easier, always think about what he would want. Not, what you think he should like or have.
Interested in learning more about gifts for men? Check out our blog post to discover more gift ideas.