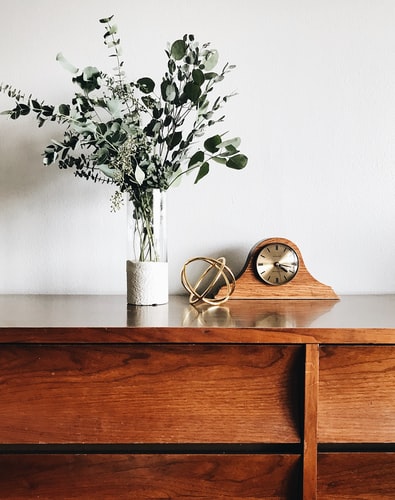 In ancient mythology the mighty Oak rules supreme. From the Celts to the Vikings, and even the Greeks, the oak has been venerated as being the 'king of the forest', a sacred tree, worshipped for its strength and longevity.
Those qualities make the oak a top choice in furniture making. And even if you think it isn't furniture fit for a king you can surely agree that at least a piece of solid oak furniture is furniture made from a king.
Found in the Northern Hemisphere oak has been used to make furniture for hundreds of years due to its plentiful and hardy nature. It is very sturdy and durable and, properly cared for, can last for generations.
Considered, along with pine and walnut, as being one of the more affordable woods in furniture it does tend to be more expensive than the others as it takes a much longer time to grow and that time and investment raises the cost.
Two Main Types Of Oak Furniture
There are many different types of oak used for furniture making but in look it usually comes in either a red or white. The white could be described as a warm, almost honey colour which suits a wide range of different decors and styles. The red, which in its raw state has a pinkish heartwood, is obviously darker and has its own unique and endearing appeal.
The grain of these oaks is quite similar. The only other real difference in look, besides the colour, can be found in the medullary rays which are a natural feature of oak which are formed during the growing of the tree. The rays of the white are longer than the red and both are found in most pieces of oak furniture.
White oak is a much harder and heavier wood than the red and would be similar in hardness to maple and birch. Thus making it more durable and more expensive.
Room or Collection
The best way to shop for your solid oak furniture is by room or collection. And there are plenty of rooms to choose from and some fine and exquisite collections.
By room you are thinking of the practicalities of that space. What is it used for? Is it a living room or a bedroom, a home office or a bathroom? What is the style of the room you have or want?
Do you want a coffee table or tv cabinet? A hallway table or a wardrobe? Thankfully, there are many pieces out there to choose from.
You want your chosen piece of solid oak furniture to suit the look you are going for as much as the task it will be required to do.
Shopping by collection could be considered the most discerning choice of the two. The only real reason being that you like that particular style. You appreciate the art and craftmanship which has went into that specific range. It suits you and the look you are after and you want to replicate that theme throughout your home.
One of the latest collections is Cadiz solid oak. A cursory Google search (Cadiz Solid Oak) will find items in this range described as a 'work of art', 'expertly handcrafted', 'practical and unique', 'stylish'. There are other collections of course and all worth your appreciation.
There is no doubting the continuing and endearing quality of solid oak furniture. It has been with us for centuries and no doubt will continue on for many more. It ticks all the boxes when it comes to durability and strength and may well be a solid investment for future generations. A piece of solid oak furniture is a solid choice.