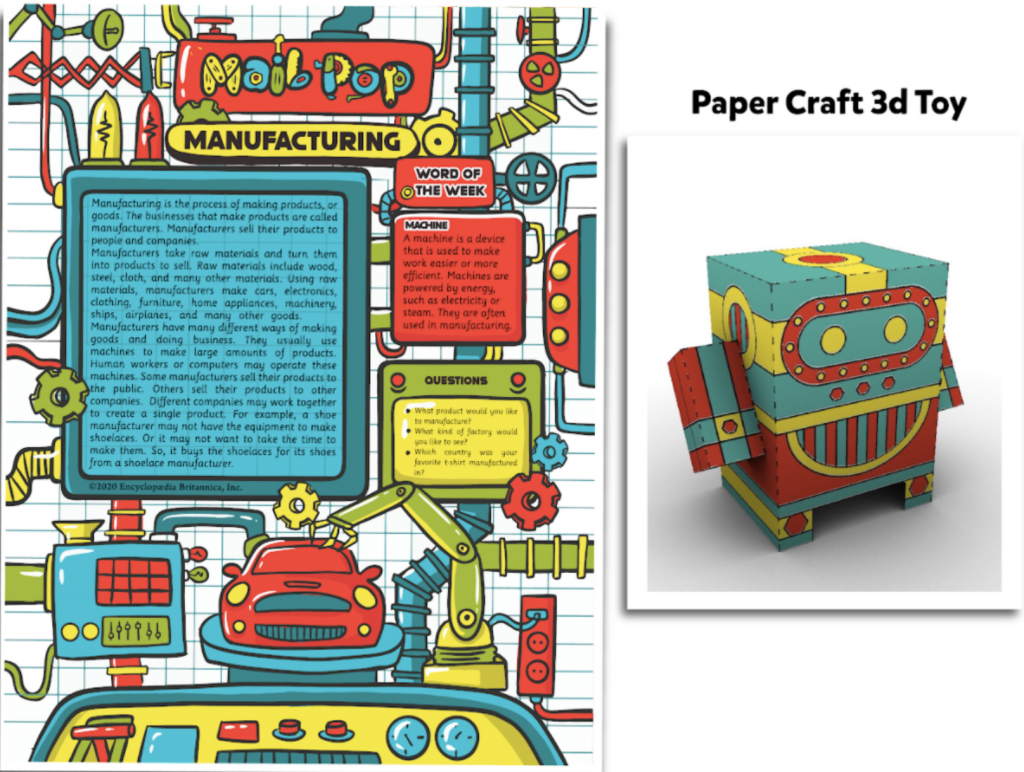 For the last year, it has been a struggle to keep the kids engaged in learning while schooling virtually. Gone was the in-person contact and the fun learning that comes from connecting with others. In their place, more screen time than ever before. I was struggling to find new ways to get the kids excited about learning again and discovered MailPop, a weekly educational newsletter for kids delivered straight to my mailbox.
MailPop, partnered with Encyclopedia Brittanica Kids, was the perfect solution to creating excitement around learning again. The personalized, fun envelope along with its colorful contents made the humdrum chore of getting the mail an exciting adventure every week as the kids raced to meet the mailman.
Along with their partnership with Encyclopedia Britannica and their factual, award-winning content, the MailPop team collaborates closely with a panel of parents and educators. They also test their content with kids to ensure it contains maximum fun which explains why mine love them so much.
MailPop's educationally-themed letters contain weekly themed content, a word of the week to increase vocabulary, and questions meant to continue the conversation about the topic. On the other side of the letter are fun activities to further reinforce the topic with activity-based learning. As if that weren't enough, each mailing also comes with a fun, paper 3-D craft that can be easily put together with clear tape or school glue. It was great seeing the kids looking forward to finding out what the topic for the week was. The questions included in their letters always led to great conversations in the car or at the dinner table.
Supporting businesses that align with my beliefs in protecting the environment and helping children has always been important to me. As a mom and consumer, I loved that the mailings were made out of sustainable and recyclable materials and that a portion of profits are donated to nonprofit organizations focused on under-privileged children with learning disabilities.
Ordering online at MailPop was quick and easy. Options for the educational newsletters include 3, 6, and 12 month plans for the most savings, but month-to-month purchasing is also available. If you purchase the 6 or 12 month plans, you'll receive a bonus fridge magnet and a folder to easily store all of the fun newsletters. Orders typically arrive within 10 days of purchase which makes them a great birthday or holiday gift for kids in your life aged 5-10 and shipping is always free.
MailPop's kid-friendly format, high-engagement texts, and new subject matter every week, really keep the kids engaged and excited about learning. To them, MailPop is the fun letter they get to sit and share with Mom. To me, it's the letter that put the fun back into learning.