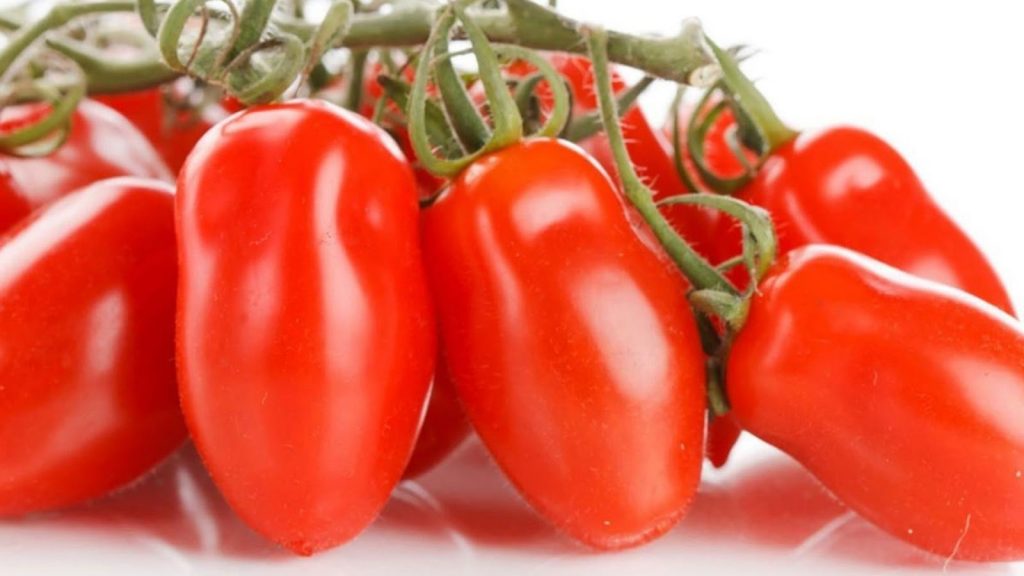 San Marzano Tomatoes are the best varieties of tomatoes that are grown in the volcanic soil of Italy. Botanically San Marzano tomatoes are called Solanum Lycopersicon. These are small oval-shaped tomatoes having a thin elongated pointed tip. The skin of San Marzano is dark in color, which is smooth and easy to peel. These tomatoes are fleshy and thick which make it perfect for making San Marzano tomato sauce and also it has low moisture content with a mildly acidic flavour.  That makes the sauce sweet, complex and jam-like which has made it favorite of all top row chefs in Italy and other countries too.
The San Marzano tomatoes are not only famous for their rich flavors, but they also have great nutritional value. They are the perfect source of Vitamin A and C having a higher content of antioxidants which helps in making a strong immune system and increase collagen production, which is best for the skin.
These tomatoes are also filled with fibre, potassium and folate that helps the body fight against free radicals. Moreover, these properties are even restored in the San Marzano canned tomatoes, making it ideal to be used in all food items.
These tomatoes have firm flesh, fewer seeds and lower juice content which makes them perfect for making best quality San Marzano pasta sauce. You can use canned variety in pasta, pizzas, lasagna or ragus by roasting or cooking them. The fresh San Marzano tomatoes are mostly used for sandwiches, salads and bruschetta either cut into thin slices or baked into a savoury tart drizzled with olive oil and some rock salt.
The canned San Marzano Tomatoes are whole peeled and packed in puree too and are mainly used in making tomato sauces for pasta and pizza.  However, you can also find San Marzano tomatoes in dried and grounded form as a powder or may be made into a tomato paste to be used for a longer time.
You can use San Marzano tomatoes paired well with any herbs like basil, parsley, thyme and oregano which works like magic in so many dishes. And you can use any version of San Marzano tomatoes in them whether freshly picked from farms or canned. Each will give the same sweetness and acidic flavour.
How to Know If They Are Fake Or Real?
As it is said, all good things are subject to fakery these days, with time these Italian San Marzano tomatoes are being grown outside the official region of them and becoming available everywhere. These tomatoes can be of the same type as San Marzano canned tomatoes grown in similar soil and then preserved in the same way. However, they are not true DOP San Marzano. A can of best San Marzano is labelled as "Pomodoro San Marzano dell'Agro Sarnese Nocerino DOP". However, you should look for an important part which is 'DOP' which stands for Denominazione d'Origine Protetta (Protected designation of origin). Its certification is ordered by the European Union and administered by the Italians which guarantees that San Marzano canned tomatoes are available.
How to Make San Marzano Tomato Sauce?
San Marzano tomatoes where to buy from, this is one of the biggest questions that worries most housewives out there. But what if we tell you that you can prepare the san Marzano tomato sauce in your home itself? Will you believe? You should believe us as here is the simple and easy recipe of making it.
You need to sauté minced garlic for around 30 to 60 seconds on the medium heat and don't forget to continue stirring it. You have to use tons of garlic while making this recipe so that your tomato sauce has amazing flavor.
Now add tomatoes in it and cook it slowly at low heat. This will allow the sauce to thicken the sauce and helps in richening the flavor.
Now you need to add herbs to the recipe to give it a fresh and vibrant herb flavor to give it finishing touch.