Easter is almost here and it's the right time to start thinking about the table decorations for the occasion. Easter brunch is a tradition in many homes and most people like to take it easy and casual, and sleep in for a bit longer, so having brunch instead of a formal dinner is a perfect solution.
Deciding on this year's theme might pose a challenge, especially if you want to keep it a bit classy for the adults, but still colourful and fun for the kids in the family. Here are several suggestions how to decorate your Easter table and offer something for everyone.
Elegant and classy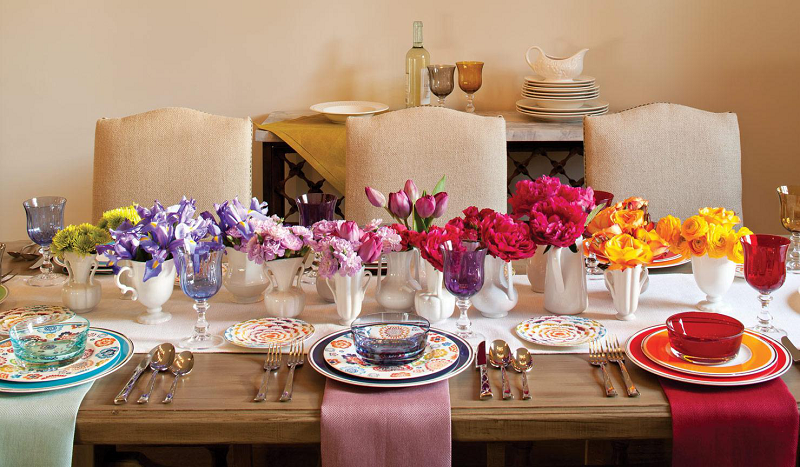 If you're one of those families that like to put the kids at their own table and let them create their own fun, then that leaves you with enough room to upscale the decoration at "the adult table". You can rarely go wrong with an elegant and classy style. For instance, a combination of marble and delicate floral Easter motifs is very stylish. You can create this look by mixing and matching marble tableware, a touch of black and white confetti sprinkled randomly and a gorgeous floral centrepiece that will add the colours and scents of spring.
Nothing says class and elegance more than a black and white combination. Consider setting your table with beautiful Robert Gordon black and white plates and bring it all up a notch by adding silver or gold accessories, such as napkin rings, egg holders, cups and dessert spoons. Finish it off with a dip bowl holding an assortment of chocolates wrapped in gold foil to fit with the rest of the design.
Shiny and sweet
By Easter time, most people feel sick of winter and are yearning for the colours and smells of spring, so bring some fun and colour to your table styling. Break away a bit from the tradition and get creative with what you have in your home, and your kids could contribute with their own ideas. You can use floral wrapping paper and cut it up to use it as a disposable tablecloth and make a big statement at a very small cost. Lay the table with blue plates that will pick up on the tablecloth colours and some pastel mugs. Tie it all together with white side plates and shiny silverware.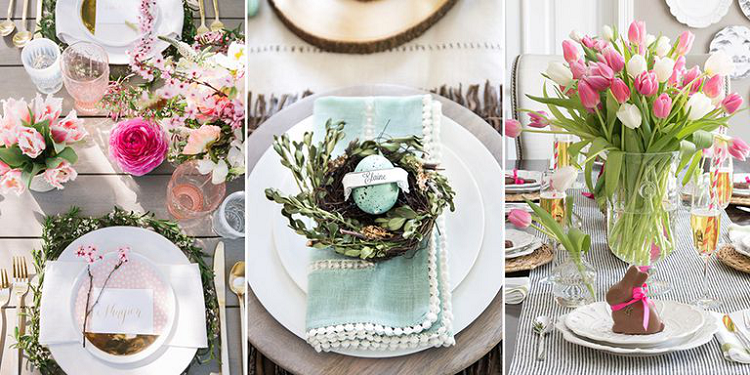 Leave it to your kids to add an egg holder with a monogrammed Easter egg for each guest and a bright, yellow chick or a cute white bunny next to each plate to finish the setting.
Country garden party
There's something particularly sweet about a country garden party theme for Easter, especially for the kids' table. They will adore a cotton candy colour palette, with a chequered tablecloth, paper doilies and tiny cut-out flags that you can all prepare together before the guests arrive.
Get your kids to pick spring flowers such as garden roses, tulips and daisies, and arrange them casually on the table. Dress the table with some patterned ribbons, colourful confetti eggs, Easter candy jars and place bunny cut-outs with kids' names on them, colourful Easter-inspired paper plates and cups, so the kids can fully enjoy the Easter fun without the worry of breaking anything.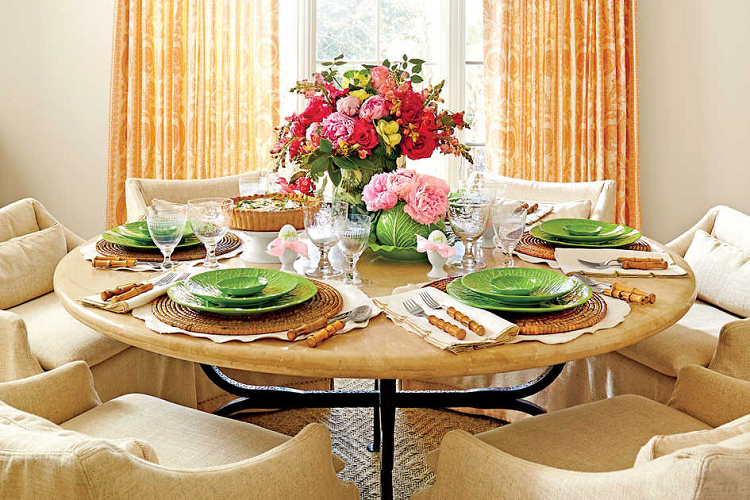 Forest theme
A natural woodland theme is one of the most common Easter table settings and is suitable for both adults and kids. The best thing about it is that it doesn't cost much and you can easily make it together with your kids just by using things you have in the house and your backyard.
As a centrepiece, you can use your kitchen wood slice board and place woven baskets filled with twigs and spring flowers that will make a wonderful nest for colourful Easter eggs. Go with white, green and blue colours for your crockery and add pastel plaid napkins. And, as a finishing touch, put scented candles and faux moss bunnies around the centrepiece.
Easter is a time of celebration and joy, and whether you're having an elegant party or a casual country brunch gathering, these table setting ideas will help you create a lovely, warm and inviting ambience and impress your family and guests.