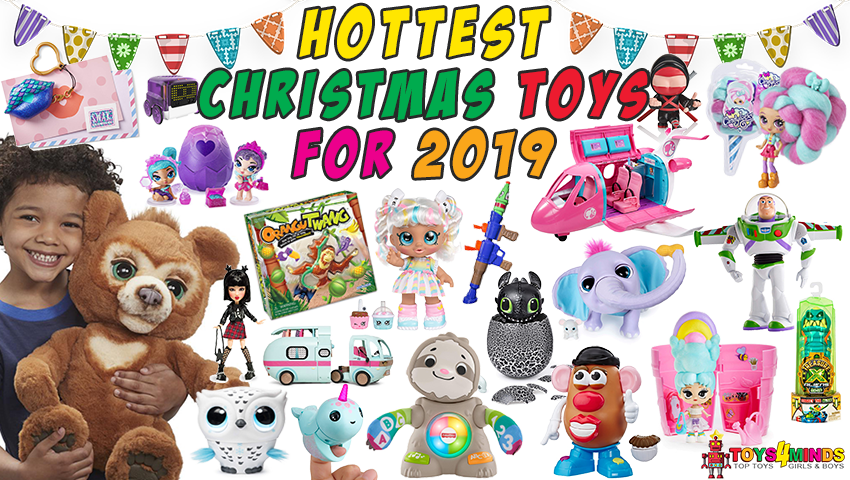 Everyone waits all year for Christmas, anticipating what might come. But it's the most fun for the kids! Most kids have already been plotting and planning about what their parents might get for them this year. Shopping websites are sprucing up with the best deals on creative toys at a reasonable price. Lists of the Hottest Toys for Christmas 2019-2020 provide parents with a surefire way to give their kids the best-of-the-best toys this Christmas 2019-2020.
Here is a mega list of the most fabulous toys for this Christmas. Many parents are wondering which is the hottest toy for this Christmas Eve. Let's take a look at the best Christmas toys for this year!
Here is the mega list of Top Amazing Toys for Christmas 2019-2020
1. Walking Buzz from Pixar's Toy Story
This toy is from the movie Toy Story 4 (as well as the other three before it!) and is very much suitable for the small kids. This walking Buzz kit comes with the toy, a handling kit, some battery cells, and a couple of additional accessories. This toy is popular enough to have created a craze, especially for children below 7 years of age, and is in high demand.
2. Cubby the Curious Bear
This interactive and lifelike bear is perfect for your young cub to snuggle with all day long. This toy is recommended by many online toy reviewers as a great companion for younger ones. It is battery operated and has a wide variety play features. It can move, dance, eat, talk, and more! This highly interactive plush toy is in high demand among little ones this year!
3. Orangutwang Game
This game is like Jenga meets Barrel of Monkeys. Kids attempt to hang jungle fruits, bats, and lizards from an orangutan that's hanging from a thin vine between two trees. But how much can the orangutan hold before he goes twang? This game is easy to understand and very popular among smaller kids. Buy easily from any store or shopping website.
4. Barbie Made to Move Doll
Barbie is a perennial favorite, and some kids wait for their new Barbie doll all year! The Made to Move variation can move more like a human than previous versions. She has 22 joints which allows her to move her legs, head, neck, lower arms, upper arms, knees, lower legs, hips and more. The Barbie Made to Move doll is perfectly suited for your little princess! With increased movability, your child can even dance along with Barbie! This doll is one of the Hot Toys for Christmas 2019.
5. Lego Harry Potter Knight Bus
This toy is perfect for Harry Potter fans and Lego fans alike. This 403 piece Lego set includes the Knight Bus as seen in the Harry Potter and The Prisoner of Azkaban movie and three minifigures. This toy is perfect for wizarding students 8 years old and up. It is available on Lego's shopping website as well as in many stores.
6. Detective Agency Game by Osmo
This game is an interactive learning game perfect for kids from ages 5-12+. The game's maps are combined with the Osmo Base and a tablet to create an interactive search and find mystery game. Kids will learn about geography, culture, and history while they develop useful critical thinking and observation skills. The game includes a magnifying glass, 4 double-sided maps, and a map holder. It's truly on-trend for any kids who love to play detective, and is available in stores near you.
7. Blume Doll
Blume dolls are perfect for girls 3 and up. Each Blume doll comes with a watering can that your child uses to "bloom" their doll from its pot. Once the doll is out, the pot turns into a home and reveals 10+ surprises inside including a mini friend for the Blume doll, fashion accessories, and a sticker sheet that kids can use to decorate the home with. There are 22 unique dolls to collect.
8. Juno My Baby Elephant
This interactive toy is loved by kids of all ages. Juno My Baby Elephant features 100+ lifelike sounds and movements. Each Juno comes with a pet mouse that she can interact with and a peanut accessory that she can eat. Juno's trunk moves and responds to your touch. Interactive toys are all the rage right now which makes Juno one of a top toys 2020.
9. Hot Wheels TechMods Accelo GT
Kids build their car from the ground up and then connect it to an app that allows them to go on treasure hunts, compete in challenges, or just drive around for fun. This one-of-a-kind RC kit is perfect for kids 8 years old and older.
10. Paw Patrol Ultimate Rescue Fire Truck
This is an exclusive toy for innovative kids. This toy kit includes flashing lights, a ladder, water hose, fire truck, and sky-high rescue ladder which extends up to 2 feet. It also has its very own siren! Your kids will love to play with the stalwart firemen and accompany them on their rescue adventures. This toy is definitely on the list of the Top Amazing Toys for Christmas 2019-2020.
Conclusion
There are endless options for toys on market and shopping sites. In this day and age, many toys are technology-based, which kids especially love. There are hundreds of Top Amazing Toys for Christmas 2019-2020, and most of them do utilize tech to some degree. With this being the trend, it's no wonder that manufacturers continue to jump on the bandwagon and create the tech-heavy best Christmas toys for this year.