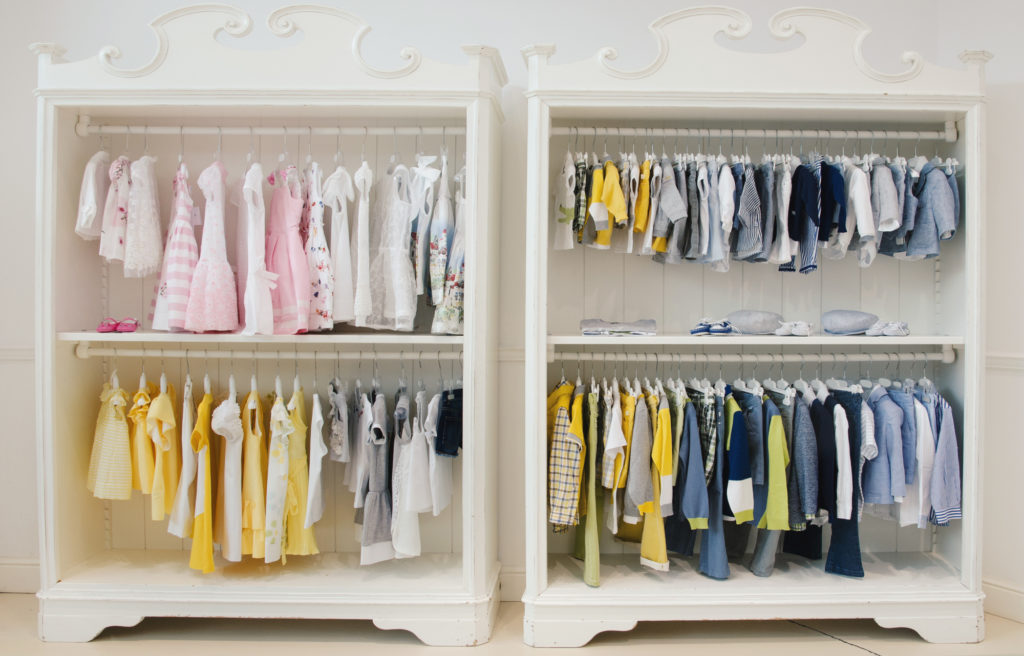 Between soccor practices and playdates, it can be tough to find time to shop for clothing for your growing tots. Luckily, there are plenty of great kids clothing boutiques online. Click here to learn the 10 top websites for finding the best kids clothes.
Dressing up your kids in cute, and sometimes highly impractical, outfits is a guilty pleasure that almost all moms share. Sure, your 1-year-old doesn't need Chuck Taylor high tops that they'll grow out of in a week, but they're so cool and cute!
But not all of us have the time to go out and shop, especially with energetic and busy kids running around. That's why online shopping is the go-to nowadays: 79% of Americans shop online.
It's both more convenient and cheaper than going to a mall or a department store. And you can stay in your pajamas the whole time!
We've got a list of 10 sites with the best kids clothes you can find. We're going to give you variety: from inexpensive graphic tees to designer labels, you'll find the perfect site for you and your kids on this list.
1. Zulily
Zulily has clothes for both adult and kids with options for babies, toddlers, kids, and teens. The interesting thing about this site is that it's a "flash sale" site. This means that the inventory of clothes is extremely limited and the clothes on the site change daily.
It has big brand names along with smaller clothing companies to give you a great variety. Hope on Zulily early to get the pieces you want at great discounted prices and sales.
2. H&M Kids
H&M Kids is a great site for keeping your kids rocking the latest trends while staying on a budget. Shoes, jackets, joggers, accessories, jeans, and more can start at 5 dollars or less. They'll all be modern and stylish and sizes range from newborn to teen.
You can also find great cheap themed clothes here: red-white-and-blue bathing suits for the 4th of July, Christmas sweaters, Halloween graphic tees, etc.
3. Uniqlo
Uniqlo is a Japanese retailer that specializes in clean and minimalist clothes. This store is perfect for getting all of the basics: plain t-shirts, jackets, and even kid-sized trench coats.
They're especially well known for their puffer jackets that are warm, stylish, and affordable.
4. Kids With Style
Kids with Style provides you and your kids with the latest seasonal styles complete with sales and discounts compared to department stores. Their simple and cute clothes will keep your kids stylish and comfortable.
Their site also features a "stylist recommendation" section. If you're never sure what's on trend or aren't sure how to style your kids, this can be a great resource to take advantage of.
5. Walmart
Hear us out on this one. Walmart actually has a lot of cute kids clothes for an extremely low price. It's especially great for graphic tees, basics, and even underwear and socks.
You can get Disney brand clothing for cheap, which is perfect for your Cars or Frozen loving toddler. Walmart also has really fun onesies for the whole family. Pajama party, anyone?
6. Amazon
Amazon really does have it all. You might not have thought to shop for kids' clothes on this huge online retailer, but they actually have some great stuff. Not only do they offer Prime free 2-day shipping on many clothing options, they also have a lot of brand name clothes at a discount.
They carry clothes for those of all ages from brands you know (Nike, Adidas, Ralph Lauren, etc) alongside other smaller brands. Returns and shipping are easy with Amazon so you don't have to worry about something not fitting or not liking something.
7. Gap Kids
Gap is one of those classic American retailers that is well known for their denim and their slightly preppy style of clothes. You can get some precious kid-size button-ups and chinos for the summertime, or some cardigans and jeans for the fall.
They also offer free shipping on orders totaling over $50. You can also return anything you don't like free of charge.
8. Alexandalexa
Let's give you a little bit of a different option here: alexandalexa is the online store to go for designer brand kids' clothes. Not only do they offer high-end branded clothing, they offer it at a great price.
These luxury clothes are both high-quality and fashionable for moms looking to dress their kids in labeled and branded clothes. They offer free shipping on orders over $99, and they have a large and varied sale section.
9. Mini Boden
This kids' brand is an offshoot of the menswear brand Boden. The clothes on Mini Boden are stylish, sleek, and modern. With sizes for kids ranging from 18 months to teens, you'll have a myriad of options.
Mini Boden provides a wide variety of styles, patterns, and colors all while maintaining a polished and sleek silhouette.
Mini Boden is also unique in that they understand these are kids' clothes. They're stylish and fashionable, but they're made for kids to feel comfortable in. Kids can play and run around in these clothes without feeling confined or uncomfortable.
10. Old Navy
After going over some higher end options for children's fashion, let's return to what we consider an old favorite.
Old Navy is well known for their awesome sales and inexpensive flip-flops (1 dollar for polka dot flip flops? Yes, please). The back to school sales both in-store and online are awesome. Deals on kids' jeans, pants, polos, and t-shirts can save you a ton of cash while maintaining great kid-style.
You'll also find some insane deals specifically on the online store. A lot of kids' clothes are 50% off with options ranging from baby to teen. They also offer in-store pick-up if you don't want to pay for shipping costs.
These 10 Sites Have the Best Kids Clothes
Finding the best kids clothes isn't always easy. Dressing your kids in cool and stylish clothing sometimes means the clothes aren't the most comfortable. But not all of the comfortable clothes are the most fashionable.
The good news is that these 10 sites offer comfortable, stylish, and good-quality clothing for your kids. They'll be able to run around the playground while still sporting the modern styles you love.
Check out our other articles on fashion and clothing to stay up to date with all the modern trends.