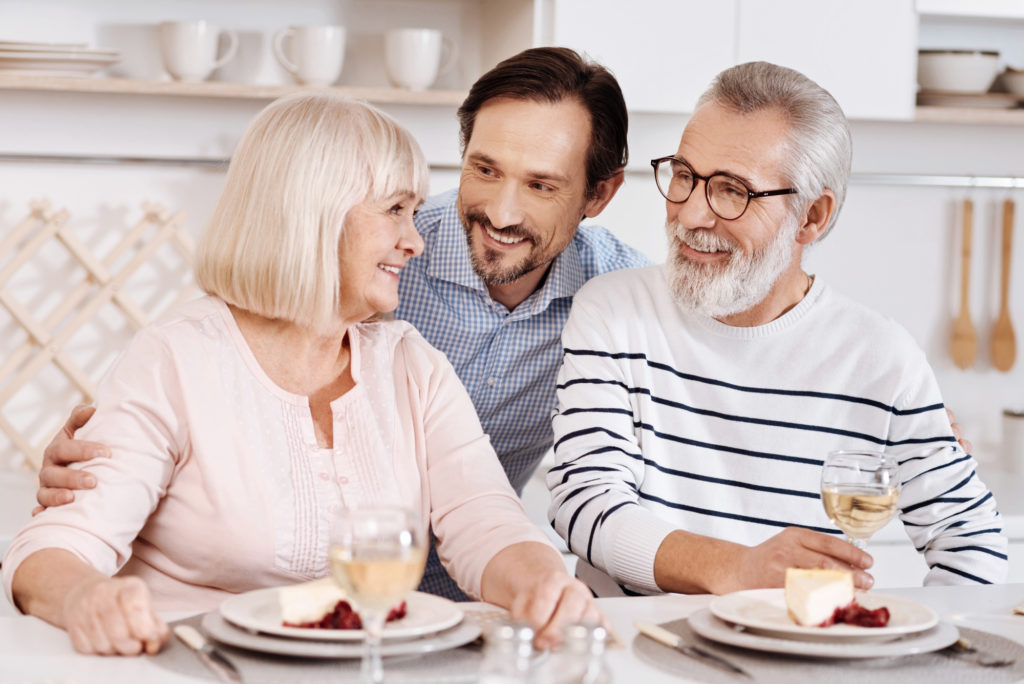 It may feel tricky to keep a loving and healthy relationship with aging parents. Click here to discover what you need to know to keep the peace.
The average life expectancy in the U.S. has dropped twice over the last two years. But despite this decline, Americans are still living for more than 78 years in most cases. As a result, the number of aging parents throughout the country is on the rise–and their children are having to find ways to maintain healthy relationships with them.
If you have older parents, you're well aware of the fact that it can be difficult to manage a close relationship with them due to a number of factors. For example, many parents are completely unwilling to relinquish control of their finances as they get older, even though they're not able to deal with them on their own.
But despite the challenges, there are some ways you can continue to have a solid relationship with your aging parents.
Here are some tips that will help you do it.
1. Have Difficult Conversations With Your Aging Parents as Early as Possible
Make no mistake about it: If you have aging parents, you will have to have difficult conversations with them at some point. You will need to discuss things like:
Their financial situation

Where they want to live when they can no longer live on their own

Who they want to take care of them when their health declines
It can be really easy to put these conversations off until you absolutely have to have them. But unfortunately, if you wait until that point, it will probably be too late for you to do it in a way that makes everyone feel comfortable.
Even if your parents are in perfect health right now, it's not too early to sit them down and talk about what they want you to do if their health should decline. While it might not be the most pleasant conversation to have, your aging parents will more than likely appreciate the fact that you want to do what is best for them.
It's also not too early to talk about where your parents might want to live one day if they aren't able to live on their own. While you might face some resistance from your parents when talking about assisted living facilities and other options, you should get everything out on the table as early as possible. It'll help you avoid having a more hostile conversation about it later.
2. Take the Time to Include Your Parents in Fun Family Activities
Although it's a good idea to start speaking to your aging parents about important issues sooner than later, that shouldn't be all that you discuss with them as they get older. Your parents are still people, too, and they want to have plenty of fun things to look forward to in life, even if they're not capable of doing everything they used to do.
One of the best ways to maintain a strong relationship with your parents as they get older is to include them in activities that you and your family do. Your parents will really enjoy going out to eat with you, attending church, and even going out to see a movie or watch a ballgame.
You might even want to take them with you when you and your kids go on vacation.
It may take a little bit of extra planning and effort on your part to include your parents in these kinds of activities. But it will go a long way towards maintaining your relationship with them, and it will also make it much easier for you to have difficult conversations when they come up.
3. Treat Your Parents With the Respect They Deserve At All Times
Your aging parents may not get around as well as they used to. They may also tell the same stories over and over and over again. They may even start to show signs of their age and seem "out of it" at times.
Despite these things, you should continue to treat your parents with respect, no matter what happens. It may begin to feel like you are the parent, especially if you have to take care of their medical needs and keep a close eye on them at all times.
But your parents are still your parents, and you should keep that in mind when you interact with them.
4. Practice Patience Even When It Seems Difficult to Do
Learning how to deal with parents as they get older can be a long process. In many cases, you will have to work at your evolving relationship with them for a long time before you both feel comfortable with it.
It requires a lot of patience both on your part and the part of your parents. Rather than getting frustrated because your dad won't take his vitamins or your mom won't shed light on her finances, be as patient as you can be. Emphasize that you are simply trying to do what's best for your parents when you communicate with them.
The older your parents, the more patient you will likely have to be. But don't give up on them! By being patient, you will eventually grow into your new role and keep your relationship with them as positive as it can be.
5. Turn to Your Siblings and Other Family Members for Help
There are going to be times when, quite frankly, you just can't stand dealing with your parents for one more minute. At those times, it's best to get away for awhile and allow someone else to help them, whether it be your sibling, another family member, or even a family friend.
You should also consider bringing in a professional for certain jobs. For instance, if your aging parents won't take the medications that have been prescribed to them, it could be easier to have a nurse come every day or two to administer them rather than arguing with your parents yourself.
By taking these steps, you can hold on to your relationship with your parents and prevent their age from factoring into it as they grow older.
Get Help With Your Aging Parents Now
If you're having trouble dealing with your aging parents at the moment, you don't have to do it alone. You definitely aren't the only person having a hard time coming to terms with this problem. You can educate yourself about it to find new techniques for communicating with your parents when things get difficult.
Check out our blog for more information on dealing with important family issues.