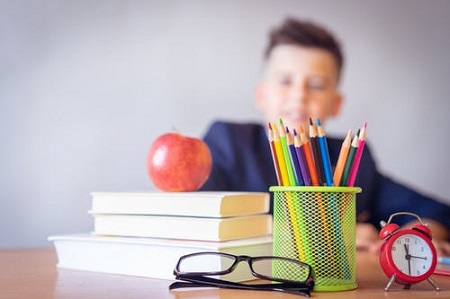 Dealing with Back-to-School Stress
Back-school-season is upon us, and mom's everywhere have resumed their rigorous school-year schedule.
Between getting breakfast on the table and making sure they have a healthy lunch to keep them energized during the day, to running around for all the after-school activities- a mother's work is truly never done.
From the time that a mom's feet hit the floor in the morning, until she finally falls asleep at night, there are constantly things vying for her attention.
It's easy- especially in the beginning of the school year- for a mom to lose focus of her own mental health needs. It's crucial for the whole family that mom maintains her mental health.
Below, we've listed a few natural ways to manage the stress and anxiety of daily life- so that moms can be happy AND healthy, all year round!
Routine
Set a breakfast and morning routine that works for everyone. It may mean setting out plates and planning breakfast the night before or it may mean getting up a few minutes earlier to help ease morning stress.
Try to make mornings calm and organized, and be enthusiastic about what's planned for the day. Lead by example, and share the plans that you have for your own day.
If you plan ahead and streamline your routines, there's less fussing, forgetting things, and stressing as you move through your busy day.
CBD (Cannabidiol)
The growing popularity of CBD is backed with plenty of convincing research. Several clinical trials currently underway, but there is already good evidence of CBD's usefulness for treating stress and anxiety.
Consider using the Charlotte's Web vape pen for ultimate stress relief, especially during the uphill battle of the daily carpool.
Creative Writing
Finding a way to express anxiety and stress can make it feel more manageable.
Research suggests that writing, journaling and other forms of creative expression can help people manage their anxiety and stress.
So, after the kids are fed, the pets have been tended to, and the house is quiet- take a little bit of time to write your thoughts down.
You might be surprised just how much creative writing can aid in allowing your body and mind to de-stress, while overall increasing your feelings of well-being.
Aromatherapy
As a mom, you're the center of the household, keeping everything together in order for things to run as smoothly as possible. However, that doesn't always happen given family life can often be hectic. Yet, moms still manage to keep the family running no matter what hardships they face.
It's obvious that moms need something to help them calm the chaos and that something is aromatherapy! Many moms have found that aromatherapy and essential oils have helped them stay cool and centered when the kids act up, aided in getting sick kids better, lessen headaches that come with being a mom and overall just creating a soothing spa-like environment when their household feels more like a zoo!
Meditation
If you're looking to meditate in the traditional sense, start with a few minutes of quite stillness, to get the habit started. sitting in complete silence seems impossible to you, try using an app for guided meditation, such as Headspace or Calm.
With practice, meditation becomes both more of an easy habit to maintain and more of an effective one as well.
Putting in the effort to learn and practice meditation can actually transform the stressful experiences in your life, and help you learn to cope with them.
Enlist Help
Many working moms don't realize that there are people around to help them if they ask. Families would often love to step in more often to lend a hand if only asked. Friends and neighbors can also be rallied, and supportive networks can be formed.
There are often ways to hire affordable help for extra things like cleaning or cooking to make a working mom's lifestyle less hectic. And the option of delegating tasks at work is often overlooked.
For busy working moms, enlisting help is a smart way to make life less stressed and hectic.