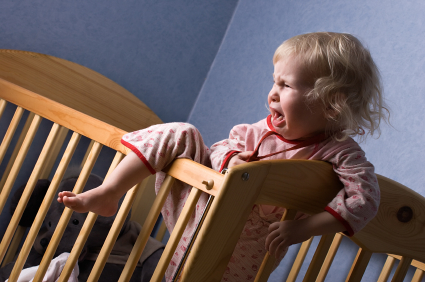 Changing sleep habits can be difficult for toddlers. However, you cannot just let your toddler to sleep with you in the masters' bedroom every night. You surely want your kid to be independent. And making them sleep in his own bedroom is the first step.
Mommies usually find this task difficult. As much as they want their kids to be independent, they also experience difficulties in saying "no" to their kids when they ask them if they could sleep again with them in the masters' bedroom. But kids are very clever and they know how to capture mommy's heart just by flashing those "puppy eyes".
In this article, we will share some tips on how to encourage your toddler to sleep in his own bed.
 Talk to them like a grown-up
The very first thing that you should do is to talk to your kid. Explain why he needs to start sleeping in his own room. Tell him that he is big enough to sleep alone in his own bed. You should also assure your kids that you are just next-door from him so he has nothing to worry about.
 Acknowledge their fear and comfort them
 You have to acknowledge that your kid might have some fear, which is why he does not want to sleep in a separate room. This could be because fear of the dark, monsters, ghosts or just fear of being alone. Acknowledge these things to them and give them assurance that nothing they fear is going to happen.
 Design his bedroom with him
Another approach that you could do is to excite the kid. You can do that by including him in planning of the design for his bedroom. You can ask him about the theme that he would like e.g. a favorite color, cartoon character, superheroes or anything. For sure, he will be happy and giddy to decorate his room.
You should also include interior plants to keep the room refreshing. You can check online about interior plants from Gaddy's to match the chosen concept or theme for your kid's room, or look for local plant shops that would provide a pleasing indoor plant.
Start slow
Changing sleeping habit can be a bit overwhelming for the kids. It is advisable to keep the pace slow and steady. You can sleep with him in his room for some day or cuddle him until he falls asleep. He will feel safer and it will be easier for him to adjust that way. But do not allow him to sleep in your bedroom. He needs to get adjusted to the fact that he has his own room and that he needs to sleep in that room.
Read bedtime stories
Try to make the atmosphere fun by reading him bedtime stories until he falls asleep. If he is afraid of the dark then you can leave the bedside lamp on or you can even leave the door half-open.
It is important to be firm in your decision to transfer your toddler to his own room. Do not show him your weakness because he might use it against you to get what he wants. It is difficult at the beginning but you have to train the child to become independent and that's for his own good as well.