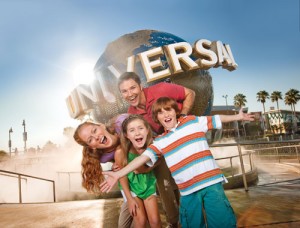 Planning your next family vacation? One of the most family friendly holiday destinations has to be Orlando, Florida. The famous amusement parks have plenty of indoor and outdoor activities to keep kids of all ages entertained. If you need a break from the wild thrill of rides and costumed characters, there are plenty of other attractions to keep you and the kids busy.
Where To Stay
Once you've booked your flights to Orlando, you'll want to look at accommodations. Whether you're looking for budget family holiday accommodations or would prefer a five star resort, there's a hotel in Orlando to suit your taste and budget.
The Walt Disney resorts are second to none but it's not hard to find a great resort and save some money by staying off-property. Many resorts run shuttle services to the big amusement parks so staying on site isn't essential. Do plenty of research: savvy travellers can take advantage of great deals on hotels, car rentals and even find discounts to theme parks.
What To Do
There are numerous Walt Disney World parks including the Magic Kingdom Park, Epcot and their water parks, but here are a few firm family favourites:
Universal Studios is great: brilliant for lovers of thrill rides and movie fans but also has plenty for small kids. The Wizarding World of Harry Potter takes you into the world of the famous boy wizard, you can check out Diagon Alley and Gringotts bank as well as book a seat on the Hogwarts Express. For the little ones, there is a Curious George themed play area that includes a wet section, so remember to bring your swimwear!
SeaWorld Orlando has a diverse line up of entertainment suitable for all ages. The park has huge rollercoasters for the thrill seekers and calmer rides for the kids along with amazing killer shark shows and fun animal displays.
If you need a break from the amusement parks, Orlando Science Center is a must for your 'things to do in Orlando' list. The center has four floors of exciting exhibits, live shows and amazing giant screen movies.
Guaranteed fun awaits visitors the Orlando, the only problem is trying to fit it all in one trip.
This post was brought to by: Karlie Dunn is a mom of two under-fives: Jessica and Owen. She is also a part time blogger and specialises in travel. Her favourite destination is New York.