Overview of Solvaderm
Solvaderm is a luxurious skincare line, which includes 15 quality products. The line focuses largely on anti-aging benefits, with creams and serums that can make the skin firmer and more elastic, smoothing out lines and wrinkles.
They also contain antioxidants, which repair damage to the skin barrier and prevent future harm. A review article in the Journal of Dermatological Science examined the role of antioxidants and the skin and their powerful anti-aging effects.
Also, some Solvaderm products treat issues like redness, dryness, and age spots on the face. Some items can get rid of oily skin and unclog the pores. This diverse collection of products provide hydration to the skin, moisturizing and helping to give the skin volume. This also helps to eliminate wrinkles.
The reviews for the Solvaderm line were off the charts. People were very happy with the results they got from these products, and the reduction of aging signs like wrinkles. One Stemuderm review was from a woman who claimed this was the best skin product she had ever used.
The Solvaderm line is designed by a team of experts in skin care and dermatology, and the products are subjected to clinical research to prove their efficacy and safety. The quality of the products is the company's number one priority.
In addition to using these products, we strongly recommend that you try mindfulness for healthy skin. The general benefits of mindfulness therapy are well known, and the principles can also improve the skin.
If you're ready to see a fantastic skin care line, have a look on the Solvaderm website to check out these products.
Solvaderm Product Summary
Stemuderm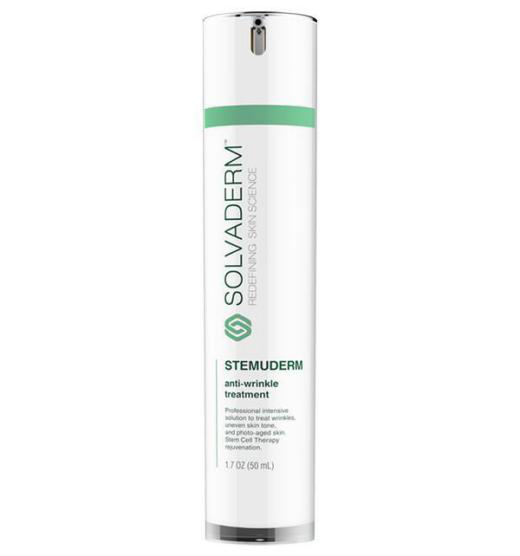 This is a potent anti-wrinkle cream, which is high in antioxidants and peptides. It repairs damage to the skin and produces collagen, making the skin firmer and more elastic and smoothing out wrinkles. Stemuderm is also deeply hydrating to the skin, eliminating dryness and giving the skin volume so the wrinkles disappear. It contains peptides that relax the muscles in your face, reducing the appearance of lines.
Ingredients: Peptides, Jojoba Seed Oil, Apricot Seed Oil, Squalane, Hyaluronic Acid, Malus Domestica Fruit Cell Culture
Price: $79.99
Revivatone
This is an intensive neck and chest repair complex. It contains antioxidants, which repair damage to the skin and prevent future harm. It's also very high in peptides, which initiate the production of collagen. This makes the skin firmer and more elastic, smoothing out wrinkles and fine lines. Revivatone is also a deeply hydrating formula, which prevents dryness.
Ingredients: Glycerin, Hyaluronic Acid, Squalane, Peptides
Price: $49
ACE Ferulic
This is a serum which improves the overall structure of the skin. It defends it against environmental stressors and the sun's rays. ACE Ferulic is high in antioxidants, which can fix skin damage and prevent future harm. This product boosts collagen, which firms the skin and eliminates the appearance of wrinkles and lines. This restorative skin serum is highly recommended.
Ingredients: Ferulic Acid, Vitamin C, Vitamin E, Panthenol, Niacinamide, Hyaluronic Acid
Price: $109
Juvabrite
The main aim of this product is to eliminate age spots and other areas of discoloration on the skin. It uses safe, organic ingredients to lighten the skin. Not only does it remove pigmentation, but it also prevents it from returning in the future. It evens out your skin tone and brightens your overall appearance.
Ingredients: Seaweed Extract, Hyaluronic Acid, Grape Extract, Mallow Extract, Peppermint Extract, Morus Bombycis Root Extract
Price: $69.99
Eyevage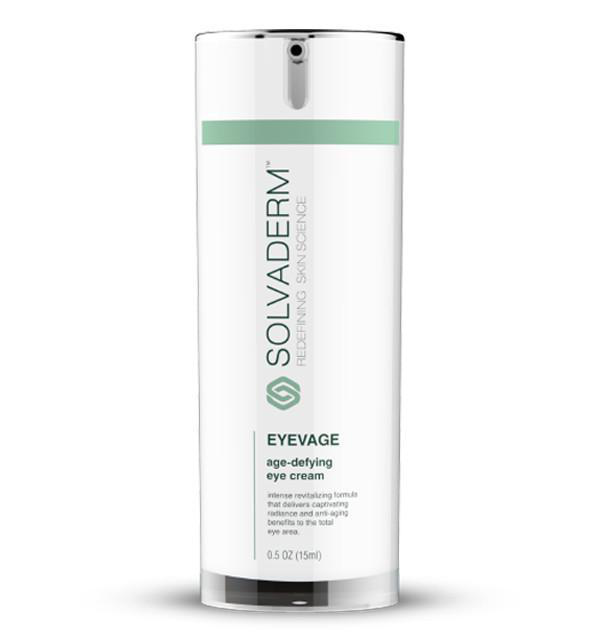 This is an enriching eye cream, which is designed to remove the signs of aging from around the eyes. It firms the skin and makes it more elastic, getting rid of wrinkles and lines. Also, it prevents the development of further lines and crow's feet. It gets rid of puffiness and dark circles. Eyevage evens out skin tone and brightens the skin overall.
Ingredients: Vitamin K, Arnica Montana Extract, OxidoReductases, Soy Protein, Hydrolyzed Rice Bran Protein, Jojoba Seed Oil, Apricot Seed Oil, Squalane, Hyaluronic Acid, Eriobotrya Japonica Extract
Price: $74.99
Suvoderm
This is a night cream, which you apply before you go to bed, and the ingredients work at night to improve your skin. It's designed to get rid of the signs of aging. The ingredients produce collagen, which makes the skin firmer and more elastic. Collagen can eliminate wrinkles and lines. Suvoderm evens skin tone and gets rid of areas of pigmentation on the skin. It also brightens the overall appearance of the skin.
Ingredients: Niacinamide, Copper Ferment, Vitamin E, Hyaluronic Acid, Alpha Lipoic Acid, Avocado Oil, Soybean Oil, Carnitine, Retinol, Sage Extract, Grape Seed Oil, Coenzyme Q 10
Price: $89
Cellmaxa
This is a powerful formula designed to remove cellulite from the body. It eliminates the fat deposits under the skin that cause the cellulite. It also firms and tightens the skin, smoothing out bumps and dimples on the skin. Cellmaxa is a very hydrating formula, which moisturizes the skin and leaves it smooth.
Ingredients: Adiposlim, Adipoless, Hyaluronic Acid, Squalane
Price: $44.95
Is Solvaderm a Brand with Integrity?
This is a brand with a lot of integrity. The manufacturer is dedicated to developing quality products with a team of experts in skincare. The products go through rigid safety checks to the highest standards.
Advantages of Solvaderm
The line includes a diverse collection of skin products.
This skincare line has anti-aging benefits like removing wrinkles.
Solvaderm products are high in antioxidants, which repair skin damage.
They are very hydrating, getting rid of dry skin and moisturizing.
The products are not greasy or oily.
Solvaderm: Cost and Purchasing Information
You can only purchase these products on the official Solvaderm website. These are the 15 enriching formulas that will treat your skin like gold. These are high-quality products that use proven ingredients. For the most part, they are fairly affordable. The manufacturer pays for the shipping costs for orders above $60.
Excelagene: $89.99
Stemuderm: $79.99
Dermaxsol: $24.99
Juvabrite: $69.99
Revivatone: $49
Eyevage: $74.99
Rejuvoderm: $64.99
Cellmaxa: $44.95
Dermpura: $24.99
Stemnucell: $74.99
Zeroblem: $34
Suvoderm: $89
Ace-Ferulic: $109
Glowpeel: $89
Maxatone: $24.99
The Final Word
Solvaderm is a skincare line that has the motto "Redefining Skin Science." The collection contains 15 luscious products, many of which have anti-aging benefits like smoothing out wrinkles and lines. These products can also get rid of oily skin, reduce redness, hydrate the skin, repair skin damage, and protect the skin from harm.
The reviews for these products tended to be very positive. Users really appreciated the skin-enriching and anti-aging properties of these formulas. One Stemuderm review was from a man who noted that the product made him look 10 years younger. There were very few complaints about Solvaderm products on the whole.
Besides doing your skin routine with Solvaderm products, we suggest that you try mindfulness for healthy skin. Some research has demonstrated the effectiveness of mindfulness, although it may not directly treat the skin. A study published in Mindfulness noted the effectiveness of the therapy in the mental health of patients with psoriasis.
Apart from these, if you want to improve your face's structure even more, it might be better to opt for buccal fat removal in Singapore. It's easier, better, more efficient, and less risky.