We all get busy, from working mums trying to balance home and work to individuals working several jobs just to keep the bills paid. It can be easy when we get so busy to forget to look after ourselves and we might become sedimentary, turn to quick-to-prepare junk food and try to function on too little sleep. All of which can add up to an unhealthy lifestyle that'll soon turn on you and make it hard to get back to your peak fitness. Fortunately, all hope is not lost and we've got some great tips to ensure you can remain healthy, even when life leaves little time for getting down the gym.
Meal Planning
Are you someone that often gets to 9-10pm at night before thinking, I haven't eaten yet! And then struggle with the decision about what to prepare, usually reaching for some instant noodles or favoured microwavable meal. Meal planning, while it takes a little bit of prep can make your life so much easier – whether it's purchasing some healthier ready meals or preparing dishes ahead of time that you can freeze and enjoy at a later date with little effort or late-night preparation. To ensure you aren't overindulging or eating too late at night, just before you are due to go to bed, set yourself some reminder alarms and follow a fasting plan so you are only eating during an 8-hour window during the day or not eating past a certain time at night.
Easy Exercising
Committing to an exercise plan can take quite a chunk out of your week, however, you only need to do a small amount of exercise to keep yourself on track. You can incorporate stretching and regular movement into your day to prevent stiff muscles and damage to your back when sitting for long periods of time. For example, the NHS website provides a number of exercises that you can do from the couch and while sitting at your desk or some ten-minute exercises that will work and tone certain muscles groups without taking up an afternoon. Even if you don't feel like you have time to include a warm-up, ten-minute session and cool-down into your day, you should at least be setting alarms to remind yourself to get up and move around regularly. Every time you need to move around your home, it's an opportunity to get an extra bit of fitness into your day – go up and down the stairs twice, carry some weights around with you or invest in some ankle and wrist weights that you can put on and forget about.
Check out these at-home workouts you can try.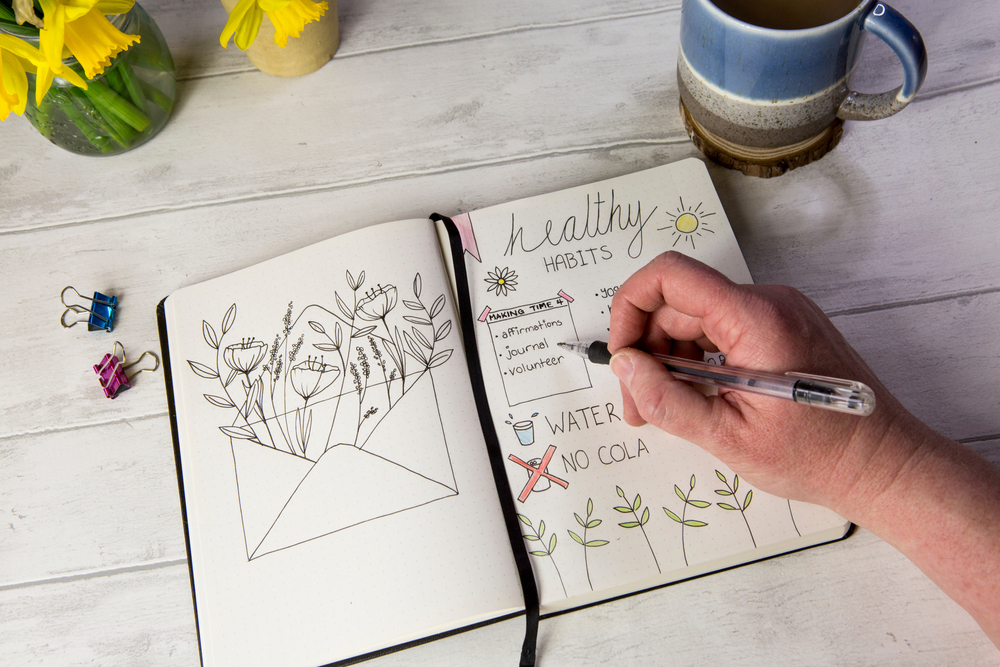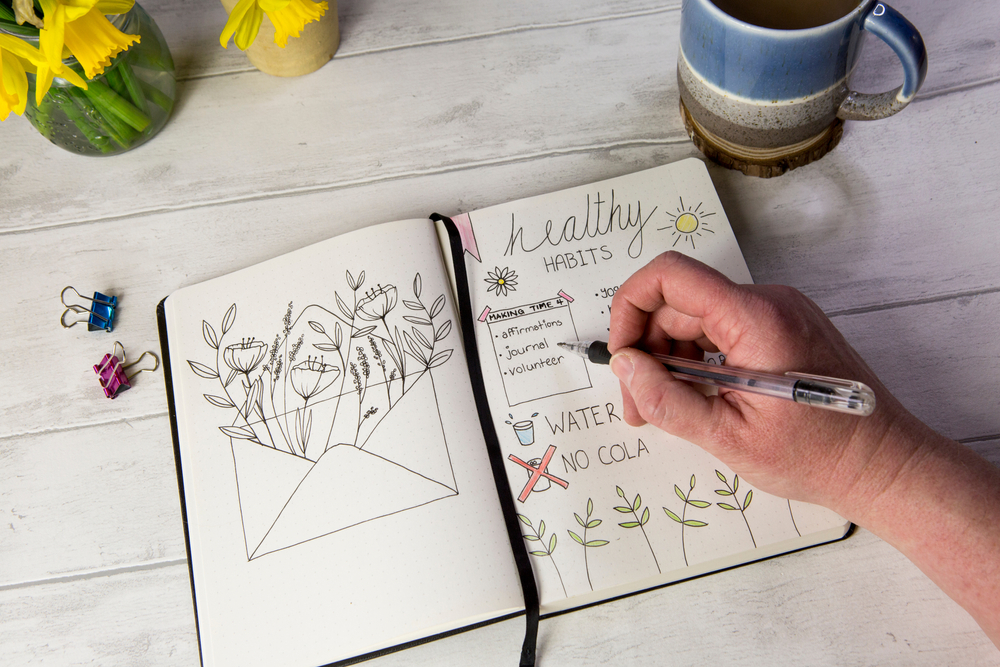 Make Yourself a Bullet Journal
Bullet journals are a fairly new and extremely popular journaling technique that uses a dot-grid notebook to create your own diary and tracking journal. There are plenty of resources for how to create your own bullet journal available online and it's a great opportunity to be a bit creative while tracking important dates, monitoring your lifestyle activities such as regular exercise, drinking water and getting outside and recording your day-to-day activities as you would in a regular journal. Whether you prefer a day-to-day diary, week-to-week, month-to-month or just a yearly overview, creating a bullet journal puts you in complete control and there is plenty of inspiration for what to include in your bullet journal. On-top of health and lifestyle activities, you can track your donations to charity, keep a graph of your bed and rising times and even monitor how often you talk or see the people that mean a lot to you. It's a great creative release and a nice way to unwind at the end of a busy day without having to put much thought or effort into an activity. Additionally, a good quality bullet journal can be kept for years, providing you with some nostalgia to look back on.
Life has its busy moments and it also has its quiet moments, sometimes we can feel like we are barely just keeping our head above water and other times we might feel forgotten. The important thing is taking every day as it comes, making time for yourself and for those you love and remember that the smallest of efforts to look after yourself now, will reward you ten-fold in the future.
Image Credits
Staying Healthy When You've Got Little Spare Time 1
Shutterstock – Royalty-free stock photo ID: 1684593163
By Maria Svetlychnaja
Staying Healthy When You've Got Little Spare Time 2
Shutterstock – Royalty-free stock photo ID: 1671223918
By Diana Parkhouse