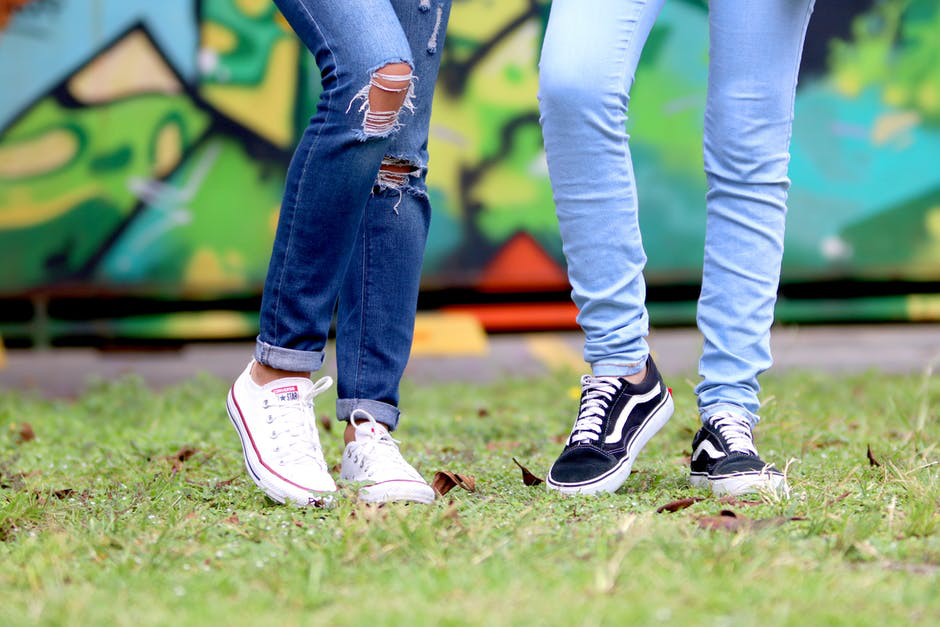 77% of American adults suffer from foot pain at one point or another in their lives, but most don't seek out treatment.
Are you one of these guilty parties? Then you may be putting yourself through some unnecessary pain.
You can easily fix this problem by investing in a good pair or two of sneakers. These are made for athletic people, so you know they'll be very comfy.
Below are the 10 best sneakers for women that you should put on your shopping list.
1. Soludos Rainbow Wave
These white sneakers may look plain at first glance, but take a closer look at its sides: there's a beautiful rainbow on one shoe and a sun with rays on the other! And on the back of the shoes, they say "good vibes."
While these sneakers aren't the cheapest on the market, it's worth every penny to make a positive statement every single time you step out the door. How can anyone have a bad day when they're wearing these?
2. Axel Arigato Genesis
If you like to wear sneakers with thick soles, you may want to try these. However, do be warned that they have a high price tag, so make sure you have some fun money to spend before you click "check out."
The Axel Arigato Genesis sneakers have a very clean design with a side panel that has chunks of black and yellow. You'll get a blend of both the retro and skater look when you wear these shoes.
3. Balenciaga Triple S
Got a whole lot of money to throw around? Then check out the Balenciaga Triple S sneakers. They were the first one to introduce "dad" sneakers to the market and they're definitely a big hit now.
These sneakers have chunks of black, white, and neon green on them. While they look like your typical tennis shoes, the possibilities are endless when it comes to outfits. You can throw on a leather jacket to create an interesting look when you wear these kicks.
4. Adidas Ultraboost LTD
If you actually need sneakers for working out and not just to wear as a fashion statement, then you need the Adidas Ultraboost LTD. They're lightweight shoes made for running, but you can use them for a variety of physical activities.
The Ultraboost sneaker comes in a few color schemes, so you'll have plenty of choices to match your workout outfits.
5. Low-Top Converse
Converse sneakers are one of the classics, so of course, we couldn't leave them out on this list! Year after year, these sneakers prove to be one of the most popular ones worn by both men and women.
For people who like clean styles, you can find solid-colored Converses in all types of shades. And for those who are more flashy, there are more complicated patterns and even blinged-out sneakers available.
If you'd like something that covers up more of your ankles, then consider the high-tops as an alternative.
6. Vans Slip-Ons
This is another classic that deserves to be on this list. It's true they've always been associated with the skating scene, but they're so comfortable and durable that tons of non-skaters wear them.
It doesn't get any easier for lazy people, as these are easily slipped on and off. Like with Converse sneakers, Vans have their iconic checkerboard pattern, as well as many other designs.
7. Allbirds Wool Runners
These sneakers are nice and lightweight since they're made out of wool. Since the material is very breathable, you can wear these all year long.
While their color schemes aren't too wild, their simplicity is what makes these sneakers so pretty. They come in solid colors with some options of different-colored soles.
Allbirds aims to be eco-conscious by using high standards of farming for their wool. They also use recycled bottles and cardboard, as well as castor bean oil in the production of their sneakers.
8. Nike Air Max 270
For a classic, go with Nike sneakers. You can count on their years of industry experience to give you shoes that are super comfortable to wear.
These Nike Air Max 270 shoes come in different color schemes, which means there's definitely one that'll catch your eye. Whether it's white/black/peach, or black and blue, or a splash of color all across the sneakers, there's a style for every occasion. You can definitely get more than one pair to satiate your need for Nike shoes.
9. Nike Tanjun
For a more retro look, consider buying a pair of Nike Tanjuns. "Tanjun" is the Japanese word for "simplicity," so expect a clean design for these sneakers.
While these come in the classic white and black colors, they also have '90s color schemes like white, yellow, and pink. The Nike Tanjun is a bit cheaper than their other kicks, so they're great for people who need sneakers on a budget.
10. Reebok Club C 85 Vintage
Yep, here's another vintage sneaker to add to your closet. As the name implies, this sneaker was originally sold back in 1985 and it was marketed as a tennis sneaker.
If you don't play tennis, not to worry. Today, you can wear these shoes as a fashion statement and even pair them with a sundress. They're amazingly comfy, so wear them all day without feeling the burn.
Buy the Best Sneakers for Women
Now that you know some of the best sneakers for women, what are you waiting for? It's time to grab your purse and get shopping!
Considering your feet are what get you around, they deserve to be pampered. So buy not just one pair, but maybe two or more. You never know when the occasion will call for a wardrobe change!
Check out our other blog posts for more interesting reads.