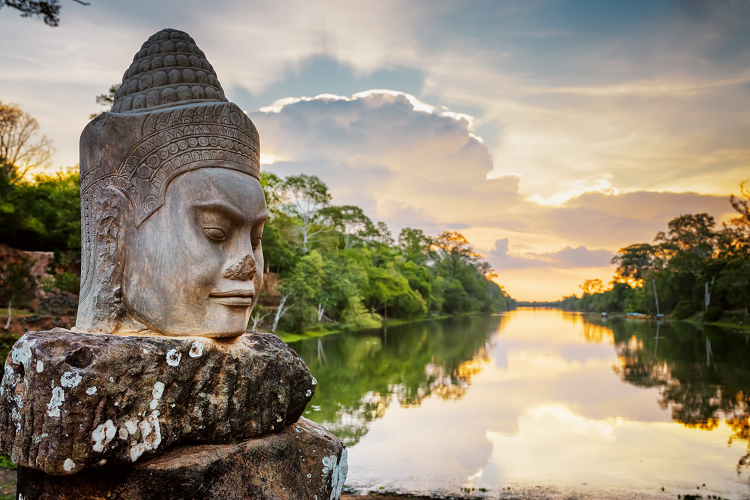 Hoping to take an exotic and tropical vacation? If so, you should consider a trip to Cambodia. Situated between Thailand and Vietnam, Cambodia offers everything from beaches to temples to historical sites and more.
Curious as to the best places to visit in Cambodia? We're going to discuss them below!
1. Angkor Wat
If you're into culture or religion, you might be interested in visiting Angkor Wat. The largest temple system in the entire world, Angkor Wat was first erected as a Hindhu shrine in the 12th century. These days, it serves as a Buddhist temple, attracting thousands of visitors every day.
There's nothing more representative of Cambodia than this temple. It's so representative of Cambodia, in fact, that it appears on the country's flag.
Interested in seeing Angkor Wat? You'll have to make a trip to Siem Reap, a resort town in the country's northwest region.
2. Security Prison S-21
The darkest time in Cambodian history occurred under the rule of dictator Pol Pot. Under Pot's rule, from 1975 to 1979, millions of Cambodians were slaughtered in a brutal genocide.
While the country has moved past this dark time in its history, it still goes out of its way to memorialize those who suffered during it. The best example of this memorialization would be Security Prison S-21, a prison in which intellectuals, activists, and political opponents were tortured and killed by Pot's communist regime, the Khmer Rouge.
If you're looking to take in this dark part of Cambodia's history, you're advised to visit the prison. Located in the capital city of Phnom Penh, it's characterized by dilapidation, degradation, and numerous torture devices. While it will make you feel uncomfortable, it will also help you to gain empathy for those who endured the struggle.
3. The Royal Palace
If you're interested in learning about Cambodia's royal history, you might consider taking a trip to the Royal Palace. Located in the capital city of Phnom Penh, the palace has been in place since 1813.
Home to the royal family (who are not the governing body of Cambodia, FYI), the palace is characterized by its timeless relics and prestigious architecture. It even houses a diamond-studded statue of Buddha.
It's open for visitation every day. Note, however, that if you're going to visit, you're advised to join a guided tour group.
4. Virachey National Park
Looking to experience Cambodia's unique geography? If so, you need to head to Virachey National Park. Located in the northeast region of the country, Virachey is characterized by jungles, mountains, bodies of water, and a variety of wild animals.
Some of the animals you might come across at the park include gibbons, Asian elephants, sun bears, and macaques. While there are tigers existing in the park, they are few and far between and are not generally considered to be a danger.
You can visit Virachey National Park at any time. Make note, though, that Cambodia's logging industry is putting quite a bit of stress on the park, causing it to lose large portions of its forests. As such, you're advised to visit sooner rather than later (before it's too late).
5. Sihanoukville
Hoping to experience some beach life while in the country? If so, you should head on over to Sihanoukville. Cambodia's one true beach resort town, it's characterized by white sands, tall hotels, light blue waters.
Make note, however, that while Sihanoukville can be an exotic and relaxing place, it can also be a dangerous and seedy one, particularly once night falls. Known for its illegal casinos, it does tend to attract some unscrupulous individuals.
That said, as long as you stick to your hotel and its immediate surroundings, you should be able to have a great time. You can go snorkeling, sunbathing, kayaking, and much, much more.
6. Hard Rock Cafe
If you're interested in listening to some live music, you should stop by the Hard Rock Cafe in Phnom Penh. Hosting live music every night of the week, the Hard Rock is home to both local and global acts.
Looking to eat a meal while you watch? That won't be a problem. Hard Rock Cafe offers a varied menu, including entrees, appetizers, and desserts from Cambodia and elsewhere.
Interested? Learn more about Hard Rock Cafe Phnom Penh now.
7. The National Museum
If you really want to take in Cambodia's history, you should head to the National Museum in Phnom Penh. Housing a Millenium's worth of relics, it gets you up close and personal with the country's history and culture.
While the museum is not free to enter, it's fairly affordable, generally costing around $15.00. That said, if you want to make the most of your experience, you're advised to join a tour group. This will cost you a little extra.
8. Kep
Enjoy seafood? If so, Kep is the place for you. An exotic coastal province known for its fishing culture, it serves up some of the best crabs the world has to offer.
But eating seafood isn't the only thing to do in Kep. Sporting a variety of white sandy beaches, it's a great place to swim, sunbathe, and enjoy a tropical atmosphere. Not to mention, it's absolutely beautiful.
Tranquil and laid-back, Kep is almost a complete opposite of Sihanoukville. Safe and inviting, it's an ideal tropical getaway.
Time to See Some of the Best Places to Visit in Cambodia
There's no reason for you to wait any longer. It's time to get out there and see some of the best places to visit in Cambodia. Whether you're into culture, or history, or just like having a good time, Cambodia will accommodate you.
Are you on the search for other travel information? If so, you can find it right here on our website. Take a look at our other articles now!