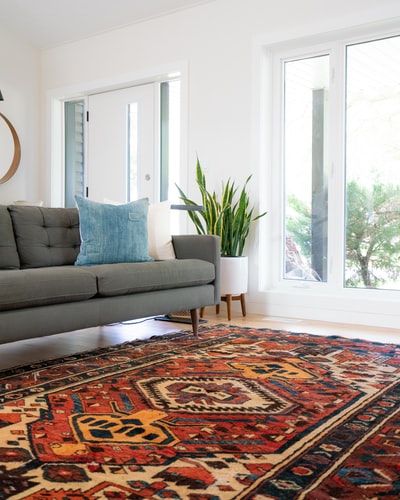 We are all aware that the Persian Rug is one of the epitomes of luxury, opulence, and good living. It is considered a mark of distinction to own one of these incredible pieces of art whether it is purely for display purposes of used as an everyday accessorizing piece of furniture.
The first thing there needs to be is an understanding of just what constitutes a genuine Persian rug or carpet. It is such a detailed and fascinating topic that the Encyclopaedia Britannica devotes multiple sections to it under the main heading of Persian Carpets.
One of the most important aspects of the Persian carpet is location. Authentic examples only come from what was Persia, now Iran. When interviewed Rob Hutchence of Persian and Modern Rugs confirmed the location aspect and a couple of other points of clarification. He told us "There are a number of factors that go into how valuable a Persian rug is. Obviously the condition is one but it is not the only one. We have things like the knot count, pattern quality and each specific area in the country has its own style some are considered more valuable than others, so you also have to look at where the rug came from originally."
With that in mind we decided to count down the top 5 most expensive rug sales we could find and look to see any common denominators that might help selection of a good investable piece.
At number five, interestingly enough, is an example not of a Persian carpet but a Turkish Ushak rug. A rich deep red colour and with fairly small dimensions at 4 foot 10 by 3 foot 11. This sold for 158,500 US dollars.
The number four entry is a Persian one but there is an interesting factoid about this one too. It is of the Ziegler Mahal provenance from Western Persia and this is one of the only styles that were actually influenced by Western art inputs. As mentioned by Rob the condition is only one factor and this particular rug had several tears and a hole although experts were of the view that it could be repaired and restored to its former glory. The sale price was US$ 170.500.
Coming in at number three is another example of Ziegler Mahal rugs but this one was in almost pristine condition. At over 18 foot by 10 it was one of the larger specimens. Sale price realised was $182,500.
Second in the most expensive list we could find was a silk Isfahan rug auctioned by well-known house Christies. This rug had superlative colours, a very high knot density and also a good provenance as previous owners included a prominent tobacco heiress. Final price achieved was US$ 4,450,000. Close to four and a half million dollars! That is some investment. Isfahan rugs are known for their curvilinear and intricate artwork and light colours. Unsurprisingly they originate in Isfahan where there are various workshops.
The most expensive example of a Persian rug we could find sold for an eye watering 33 million US dollars! This was auctioned by Sothebys. It is an example from the 17th century so certainly has antique value.
As can be seen the numbers involved in the world of antique rugs are far from insignificant. It may be time to reassess that one in the attic.