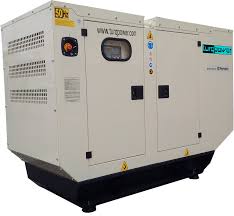 Generators are one of the most indispensable equipments of our times. Especially if you run a business that relies on using heavy appliances or equipment that suck in plenty of energy, you definitely do not want to expose yourself to a power cut. Imagine a sudden and unexpected power outage were to occur, how would that affect your business continuity and profits? A small investment in a generator can surely save on large costs that you could incur with a cut in the power supply.
Time and again, construction sites, infrastructure projects, outdoor events, all have benefitted immensely from the use of generators on site. In fact, if you understand the dynamics of a simple generator, you will know it does not" generate" as such but uses a mechanical energy source to force electric charges present in the wirings.  With so many options to choose from, its important to buy a generator that matches all your requirements.
Most commonly, factors like cost, size, and power capacity are considered before narrowing into a generator. An additional factor to consider is the type of fuel used. This is important as it can potentially predict the kind of use you will have and the cost spent on purchasing the fuel to run the generator efficiently.
Generator fuel
Generators often run on external sources like gas, petrol or diesel which burns out to produce electric energy. While gasoline is the most common fuel used, owing to its easy availability, it has many disadvantages like:
Highly inflammable
The shortshelf life of 12 months
Inefficient as a fuel
High risk as they are stored in large quantities
May be unavailable during a power outage.
These are just a few of the reasons why companies and residences are increasingly moving from gas to diesel generators. Using a diesel generator has many advantages that work in favor of long workloads. Some advantages include:
Diesel as a fuel is a least flammable source
Easily obtainable as it is used extensively across all industries including the trucking industry, military,
Less expensive to operate.
Requires less maintenance
Less noisier
Moderately priced and more energy efficient in comparison to gasoline
Application and uses of Diesel Generators
Apart from the obvious advantages, diesel generators with diesel engines are known to have higher mileage making it the most obvious choice for heavy duty transport and equipment alike. Diesel is also heavier as a fuel, having a higher boiling point than water. This makes it the most cost effective and energy efficient fuel to use. Diesel-powered generators are commonly used in marine, construction, hospitals, telecommunications, agricultural applications, to name a few. They are widely used in locomotives, automobiles, and other industrial applications.
Top tips on choosing a diesel generator
Here are some tips that can guide you in picking the right diesel generator. Keep this guide in hand to ensure you pick one that's cost-effective while matching all your needs.  There are many popular diesel generator brands to pick from in the market.
1. Size of generator
Probably the first and foremost thing to consider is the size of the generator. In today's world of options, there is no longer a need to buy an exceptionally large generator for heavy purposes. The smart control of most generators allows for lower fuel consumption, lower maintenance costs, and a longer life span. Make sure the one you buy fits the allocated space in your property.  Ensure this area is spacious enough for quick access for repair and optimal ventilation.
2. Modular capacity
Even if you do not require an intense network of generators at the moment and are probably in the comfort of a simple generator, it's worth checking with the manufacturers if your diesel generator can be used for a modular power plant set up.  This setup has benefits like enhanced equipment reliability, reduced cost, and length of intervals.
3. Power, Control and Fuel consumption
The ideal diesel generator must have smart control systems in place like remote start and program options, pre-empt and display warnings (think low fuel and the likes), performance issues, etc. in addition to a range of data analysis. Much modern-day Diesel genset on sale are equipped with Power Management systems that make them ideal for rental uses with their plug and play options. With these systems in place, it provides means for optimal fuel consumption and generator performance in parallel to the workload demand.  It also avoids heavy engine damage from running low load levels.
It is recommended to get hold of a fuel consumption forecast from a few manufacturers before you invest in a generator. While almost all generators nowadays advertise low fuel consumption as their key selling point, it is important to get your hands on some real-time data to cross verify.
4. Physical transportation of generators
It's worth checking if these generators are easily portable. Check if the units can be loaded on a heavy vehicle and if it has features like lifting eyes or forklift slots. If you're looking for something lighter, then an inverter generator would be best for you, although more expensive. Wondering whether to choose a conventional or inverter? Do your research to learn more. If you intend to use multiple generators, it's also worth checking if they can be stacked for ready access purposes.
Warranty
While most warranties are standard, there may be slight variations depending on the brand and type of generator you purchase. Ensure to read the contents of the warranty including duration and coverage to ensure you can contact the manufacturers should there be a faulty product early on after the purchase.
Conclusion
It's important to invest in a generator if you do not want to suffer from a power outage. Consider all the factors mentioned above to get the appropriate sizing for generators.  Remember to stay conservative during purchase as almost all generators are made to work hard with the most accurate sizing made to its application. There are plenty of diesel gen-sets on sale that you could benefit from purchasing. Start browsing manufacturers to downsize to your best pick possible and invest. Should you be in doubt, seek expert advice about the latest developments in the design and application of generators.