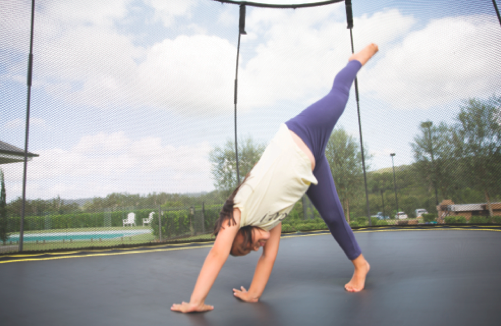 Having fun as a family matters, but so does making sure you do it safely. That is why parents wanting the best for their children will benefit from a little research before they purchase their first outdoor trampoline. Many apprehensive parents now forgo the idea of a trampoline out of concern for the safety of their children. There have been many accidents reported in recent years, and the statistics are frightening, but there is more to the story than just believing that trampolines in and of themselves are dangerous. They can be as safe as any other form of active play – when they are designed correctly, and enjoyed with proper parental supervision.
There are numerous features to consider when shopping for a child-safe trampoline. Springfree Trampoline USA for example, designs their models with a net enclosure that is held in place by flexible composite rods beneath the jumping surface. The net plays an active as opposed to passive role in guiding children back to the mat when they come in contact with it. The composite rods are also used (instead of springs) to securethe SoftEdge shock absorbent mat; the elimination of springs also reduces the risk of sprains and fractures that have been all too common where traditional trampolines are concerned, as limbs have gotten caught in between them. The flexible rods never come into contact with the user, and are less likely to pinch or cause other injuries.
When selecting a trampoline,it is necessary to make certain that each model has undergone all of the testing necessary to determine it can withstand rigorous use. Thankfully, there are numerous industry-based awards given to top-quality manufacturers to help you determine which to go with. Look for models that have been given the recognition of the International Design Award, The Parent Tested Parent Approved Award or The US Family Choice Award.
Why not also consider additional benefits? While trampolines are a wonderful way for all family members to get more exercise, and children are less likely to sustain an injury when they are supervised, parents can use this time for their own benefit as well. The tgoma digital game system introduced by Springfree makes it easy for parents to get kids moving without fighting with them to put down their favourite devices. The system offers apps that allow the user to attach a tablet to the trampoline, tracking how many jumps they have made, and how many calories they have burned. The system makes it possible for families to compete with oneanother, or with others connected to the app. It encourages playful competition and lets everyone set fitness goals, as well as track their scores.
When parents purchase wisely by choosing safe, durable, and well-designed trampolines (while remaining watchful of their children during trampoline play time), it is very easy to keep them protected while allowing them the freedom to soar. Many children do not get the exercise they need to maintain a healthy weight, trampolines encourage children of all ages to go outside and get moving. It is even recommended that parents to use the trampoline in order to get in shape too.