Love and flowers go hand in hand, with exquisite blooms helping us express our feelings for others. You may want to gift your spouse on your wedding anniversary or send a beautiful present to friends or family members on their special day.
Fresh blossoms lift our spirits and help us stay positive. An anniversary flower delivery makes an excellent surprise for a loved one.
Just as each anniversary has a traditional gift, there are also specific blossoms associated with each milestone. Read on to understand more about which flowers to give based on years of marriage.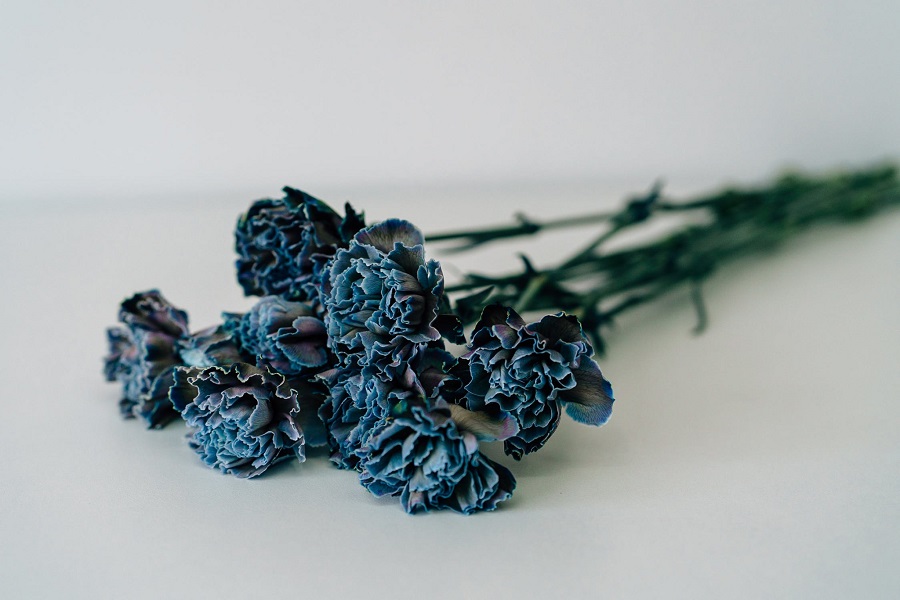 One Year: Carnations or Pansies
Carnations are popular flowers known for their young and vibrant blossoms. They represent the enthusiasm of the beginning of a marriage relationship. Their sweet fragrance reminds us of the devotion and joy that will sustain the couple in the years to come.
Pansies are another option that sometimes appears as a suggestion for a first anniversary. They're small and delicate, representing the bond that's still forming between the newlyweds. The plant depends on the development of a firm foundation for future growth, not unlike a marriage.
Carnations are typically sold as cut flowers, while you'll likely find pansies as a potted plant.
Two Years: Cosmos
Cosmos flowers symbolize love and innocence. They also represent beauty, modesty, joy, and balance, all excellent qualities of a marriage relationship.
Three Years: Fuchsias
The color fuchsia was named after the purplish-red flowers of this plant. However, the gorgeous bell-shaped blooms can come in white, red, pink, purple, or a combination of these. These blossoms are sometimes called "Earrings of the Queen."
Four Years: Geraniums
Geraniums come in vibrant colors and remind you of the joy and pleasure of the four years together. These plants are familiar and symbolize the comforting beauty of knowing each other well.
Five Years: Daisies
Daisies have a structure that symbolizes the strong bond and faithfulness of a married couple. The center is the foundation, with the petals representing growth and expansion, including shared projects like any children who have come along since sealing the union.
Ten Years: Daffodils
A bunch of daffodils can provide extraordinary beauty and serve as an analogy for the marvel of ten years of marriage. After spending a decade together, you have many amazing memories together, symbolized by the individual flowers making up the bouquet.
15 Years: Roses
Roses typically stand for romance and passion. Red roses indicate a deep romantic love. The couple that has cultivated a close relationship for 15 years knows a lot about the perfect love that roses represent.
20 Years: Daylilies
Daylilies bring a cheerful and carefree vibe and represent the stability of a long-term marriage. By the time you reach this milestone, you've survived many challenging times as a couple. If you have grown children, you might find more time to relax and enjoy life a little more than before.
25 Years: Irises
Irises are a royal flower, perfect for celebrating a quarter-century of marriage. This bloom inspired the French fleur-de-lis and represents sophistication and elegance. It also symbolizes faith, courage, hope, admiration, and wisdom.
30 Years: Sweet Peas or Lilies
The sweet pea is an annual plant that symbolizes lasting, blissful pleasure. It often has pastel-colored blossoms in blue, purple, pink, or white. There are also dual-toned blooms, and all possess an intense fragrance.
Some traditions suggest the lily as the ideal flower for a 30th wedding anniversary, and you may prefer it to the sweet pea. You can pick the one that suits you.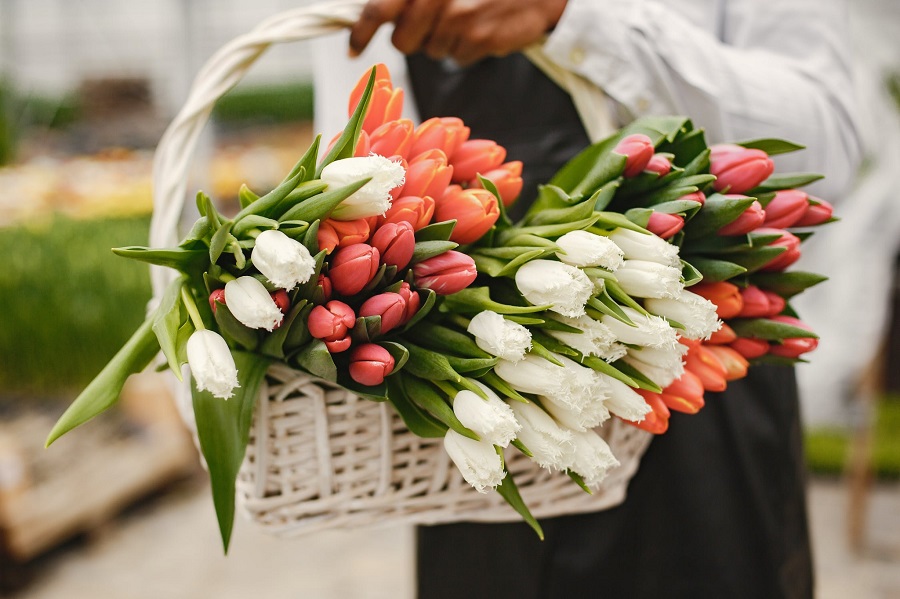 35 Years: Coral-Colored Bouquet
The traditional present for a 35th anniversary is coral. Consequently, a bouquet of coral-colored flowers would go nicely. You can ask your florist to select blooms in tones that complement one another.
40 Years: Nasturtiums
After 40 years of marriage, it's clear a couple has accomplished a great deal together. They've lived out their wedding vows, staying together "for better, for worse, for richer, for poorer, in sickness and in health."
Nasturtiums traditionally stand for patriotism and victory in battle, and it's certainly no stretch to apply this to the struggles of everyday life. A couple that's been together for 40 years has shown the loyalty and devotion necessary to stick together no matter what.
45 Years: Blue Irises
If you know someone celebrating their 45th wedding anniversary, consider a gift of blue irises. These stunning flowers represent faith and hope, essential characteristics of a long-term relationship.
50 Years: Violets
The 50th anniversary had been dubbed the Golden Anniversary. Suggested gifts involve gold, and party decorations also typically include it. The deep purple of violets provides a beautiful contrast to the shimmering ornaments.
Violets symbolize faithfulness, modesty, simplicity, affection, and innocence, perfectly representing qualities of marriages that last.
55 Years: Calla Lilies
Calla Lilies are popular for weddings and other romantic events. Their green leaves and elegant ivory white petals make them a rare treasure.
These flowers are native to southern Africa and represent strength. Even frost is no problem for them, making them an excellent analogy for a marriage that has stood the test of time.
Emeralds are a traditional present for a 55th wedding anniversary. If you can't find calla lilies or just want to be a little different, you could choose green roses to match the suggested gift.
60 Years: Diamond-Themed Flowers
Most anniversary years focus on a specific type of flower, but the 60th doesn't. Since the traditional gift is diamonds, you might choose a bouquet of white blossoms. Maybe your spouse has a favorite type of plant they'd especially enjoy receiving.
There are also at least two varieties of rose bushes whose names fit the 60th-anniversary diamond theme. One is called Diamond Anniversary and the other, Diamond Wishes. Consider throwing an anniversary garden party to unveil the new bush.
In Closing
Anniversaries are perfect for gifting flowers, and each milestone has different traditional blossoms to include. You can use these suggestions to make your loved one's day super special. From geraniums to sweet peas and lilies to irises, each variety holds meaning and contributes to the beauty of celebrating a wedding anniversary.