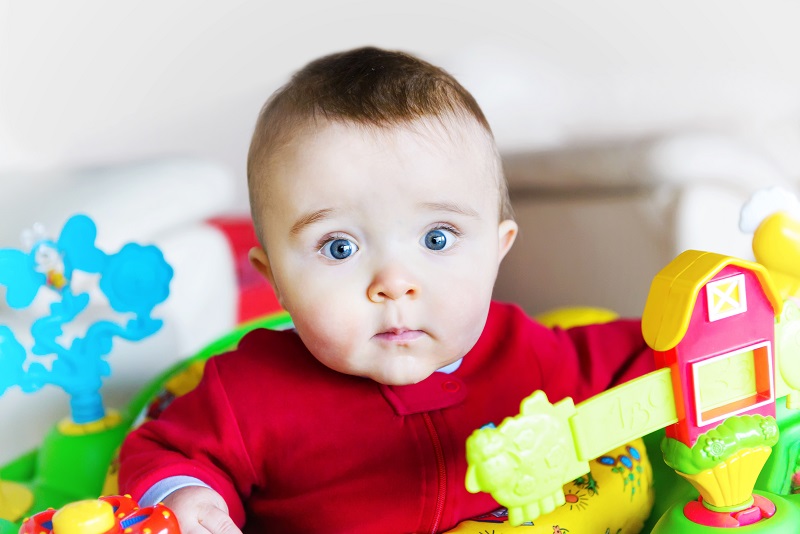 If you're looking for a baby jumper, you'll want to choose one that fits your needs and that happens to be tailored to ease up your life a bit with the baby.
With that being said, there's a ton of options to choose from when it comes to shopping for the perfect baby jumper. There are three main types of baby jumpers on the market: stationary, activity and doorway jumpers. These three jumpers are design to keep the baby active and free up your arms to do other necessary things that need to be done while the baby is in view.
Stationary jumpers are stationed in one spot. Your baby will spend most of the time bouncing in this type of baby jumper. Activity jumpers are somewhat similar to a stationary jumper but it has an array of toys for the baby to play with as well, so the baby could choose to either jump or simply play. Lastly, doorway jumpers are designed to hang in the doorway with a clamp at one end of the bungee allowing for a secure grip to the doorway. They are perfect for families who don't have a lot of available floor space. They are also portable and handy for families who love being away from home (we have even seen these adhered to trees during picnics).
Below are the different features to look for when considering buying a baby jumper for your precious little one.
Comfortable Seats
Without a doubt, all baby jumpers come with a seat for baby to sit in. Look for a baby jumper that has seats with adjustable height mechanisms, removable seats (so you can wash them) and seats that are lined with padding for extra comfort.
Safety
Despite the model of jumper you choose to buy, it is best to make sure that the jumper has multiple straps to suspend the seat. Having 2 or more straps will make sure that the baby is secure in the baby jumper as they bounce up and down. Avoiding jumpers with a single strap will reduce the risk of injury to the baby from their instability. Single strap jumpers will likely swing the baby from left to right and make it uncomfortable for the baby especially on their little legs and feet.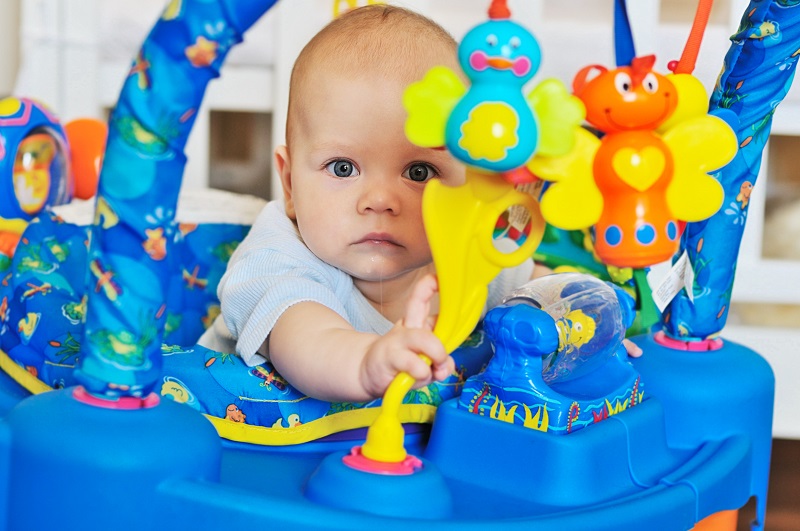 The right weight requirements
Depending on the model of baby jumper, the weight allowance may vary on different models. However, when you're picking a baby jumper for your baby it should be suitable to sustain the weight of your baby. It is best to make sure to weigh your baby and check the weight requirements for the baby jumper as this will help you pick a jumper that will be more durable.
Entertainment
Having toys that will engage the baby while they bounce up and down are great to keep their interest. Toys with different animated sounds and flashing lights are the perfect solutions for a baby jumper and will ensure that the baby is well entertained as they spend time in the jumper. You can read more about the entertainment benefits of baby jumpers by clicking here.
Adjustability and storage
Buying a jumper with adjustable heights will allow you to adjust it to the right height as your baby grows. So ensure that the jumper has at least 3 or more height adjustment settings. Another important feature to look out for is to find out how easy the jumper is to store away, or how portable they are to take with you on your holidays.
Researching the different models that are on the market will help you to purchase a jumper that is well-suitable for your baby, your home and your own needs. Hopefully the guidelines above will help you to choose a safe jumper that your baby will thoroughly enjoy. Click here to find some more awesome baby-related articles.
Author Bio:
Alice is from Chicago, Illinois in the U.S.  She is a proud mommy of three beautiful children, including a little 6-month-old munchkin! She knows how hard it can be to find the right gear and toys for a baby (and how expensive it can be!). So she want to help you by giving you the newest and latest info on her favorite toy: the baby jumper! Read more about her passion for this baby toy on her website 'The Best Baby Jumper'.