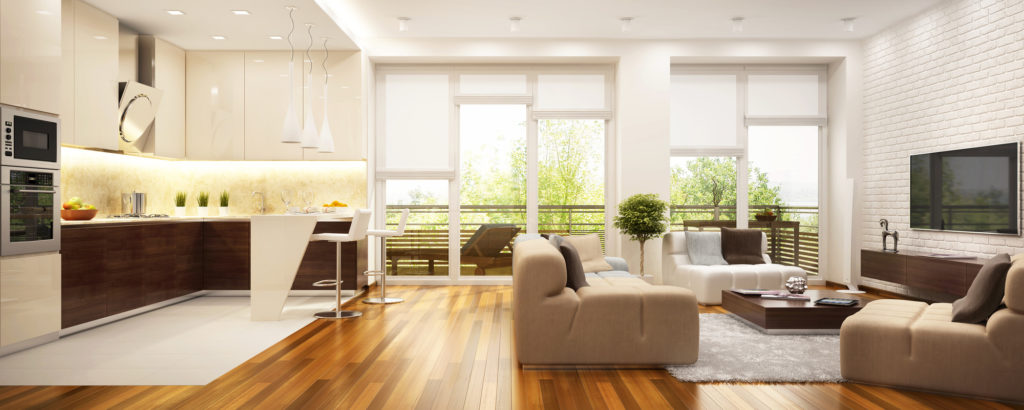 Are you thinking about giving your home a refresh this spring? Learn about the hottest 2018 interior design trends so you can be confident the changes you make will look stunningly gorgeous.
In 2016, there were over 66,000 interior designers in the U.S. But, you don't need to be a certified designer to give your home a little update.
Take a look at the 2018 interior design trends. Then add touches to your home with confidence.
Spring is the perfect season to give your home a style reboot. Use these gorgeous design trends for living rooms, family rooms, and other favorite spaces in your home.
2018 Interior Design Trends
Are you ready to come out of winter hibernation with a little spring refresh? There are lots of easy DIY ways to change the look of your home without doing a major renovation.
From beautiful greenery to geometric wallpaper, 2018 is shaping up with some great design trends.
Did you know that it's been scientifically proven that there's a connection between beauty and happiness? It's a good idea to make your surroundings as beautiful and well designed as you can.
With that in mind, take a look at these great interior design trends for 2018.
Bold Colors
This works best if you use bold pops of color.
Don't be afraid to mix a few bright colors together. Try layering a tri-colored bold throw over a neutral dark bedspread.
Use a couple of colorful pillows that complement the throw.
Add bold bright curtain panels. Keep the rug and walls light and neutral. Use different textures for your pillows, throw, and curtains.
Never be afraid to use patterns and stripes together.
Be fun and bold!
Geometrics
Geometrics made their debut last year on rugs and cushions. But, don't be surprised to see geometric patterns showing up in wallpaper, tiles, and art in 2018.
The look has a retro feel but is also modern and fresh.
Greenery
It's been known for a long time that plants are good for helping keep indoor air clean. But, they're also an easy way to make a design change.
If you want to add a splash of color, but you're afraid to commit to wallpaper, throw pillows, or new paint, try some beautiful plants.
Many species of indoor houseplants don't require a lot of care. They make a stunning accessory for any room.
If you're adding greenery, don't forget the kitchen! And while you're at it, a little kitchen spring cleaning can go a long way towards a refresh.
Beautiful Dark Blues
Are you tired of pastels? If you're ready for a change, try a deep dark blue. Afraid to do the entire room dark blue? Try some beautiful blue accessories.
Mix and match a few cute end tables. Then adorn them with deep blue gorgeous glass vases filled with blue flowers. Be sure and vary the heights of the vases and the flowers.
It's okay to use different textures and types of glass and stoneware for the vases.
Try New Lighting
New lights bring a whole new look to a room. Make a boring room elegant. Or make a drab old room modern and fresh.
If you're looking for fresh modern lighting trends for affordable prices, try SOFARY lighting.
What's Ombre?
Ombre is the French word for shading or a graduation in color and tone. It's a fun trend that's easy to do yourself. Simply take a blank canvas and start at the top.
Using several shades of the same color, paint swatches across the canvas. You can use as many or as few shades of color as you'd like.
If you're not adventurous with paint, but you love the look of ombre, try an ombre wallpaper. You can do one wall as an accent.
Try a Little Gold
Silver's been the go-to glitter for paint and metal finishes for a while. But, look for gold as the trending color for all things metal this year.
Gold pairs well with a bold blue.
Look for gold as an accent on doorknobs, handles, mirrors, and picture frames. It's bold and opulent and perfect if you're tired of silver.
Floors that Shimmer
Not all things that shimmer are silver and gold. How about shimmery floors?
One of the newest decorating trends for 2018 is iridescent, metallic, and shimmery finishes on carpets.
These soft, luxurious, shimmery carpets come in pale greys, blues, and pretty rose hues.
They're surprising, fun, and adaptable.
Vintage Accessories
Vintage accessories and art are trending for 2018. But, vintage is also classic and has staying power.
Looking for a great conversation piece? How about a retro seafoam-green 1950's radio? Old books stacked in unexpected places are also unique decorating pieces.
Shop flea markets, garage sales, and antique stores to find one-of-a-kind accessories.
Wide Woods
Wood floors are classic. The style and types of wood floors trend and change. Current home interior trends feature wider planks for a rustic and vintage look.
These wood planks run up to 5 inches in width. Another trending style is the installation of random-width planks throughout a room.
No More All-White Kitchens!
More homeowners are ditching the all-white and neutral aesthetic in favor of bold colors in the kitchen. Try a beautiful charcoal or sage color in your kitchen.
Stainless steel has been the go-to finish for kitchen appliances for years, but that's changing too. Along with the beautiful new bold colors, homeowners are trading out the stainless steel for wood panel finishes.
The wood panels hide the appliances so the kitchen appears larger. Expect to see wood tones in place of white and gray cabinets.
And while you're remaking the kitchen, make sure you've got all your essentials.
Mixed Metal
Another interior design trend for 2018 is mixed metal finishes. Brass is back. Expect cabinet and hardware accessories in brass.
Don't be surprised when gold, black nickel, copper, and bronze are thrown into the mix! These metals go great together.
Pick a dominant metal and use the others for accents. Always match your finishes for a pulled-together look.
Curvy Lines
Sharp-edged designs are giving way to curvy lines in armchairs, couches, and coffee tables. Look for gently curved furniture and accessories as well as ruffles and ruching.
Make It Yours!
No matter which 2018 interior design trends you embrace, make them yours.
You don't have to make all your changes at once. Take your time and shop thoughtfully for long-lasting furniture, decor, and accessories you'll love.
While you're working on your place, take a look at our many great DIY and home articles to make your job easier and more enjoyable!