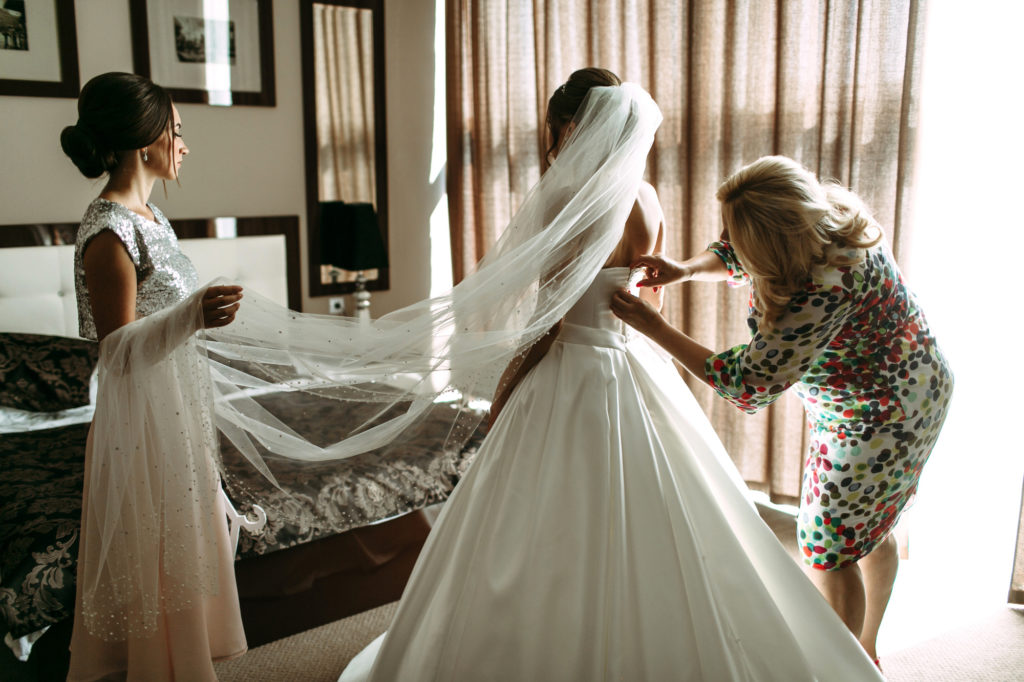 When your little girl gets engaged it's the start of a whirlwind of wedding planning. Here are the mother of the bride duties you need to remember in the chaos.
Is your daughter getting married?
More than a third of the total number of adults want to get married at some point in their lives. For many, marriage remains as one of the most significant milestones in a person's life.
If your daughter is going to tie the knot with their beloved, there are some things that you need to remember, like giving them advice on their summer wedding's color scheme. Also, you have other responsibilities as the mother of the bride to ensure that your girl has the most memorable wedding of her life. Here are seven responsibilities you should know:
Supporting the Shopping and Keeping Bridesmaids in Line
In a traditional sense, mothers accompany their daughters when they shop for a wedding dress. There are lots of wedding dressmakers out there, like this company. As the mother of the bride, you need to be there for your daughter to share their joy and give them the feedback they need.
Don't let your daughter spend a big amount of money on a dress that looks less stellar than the one you had. If you're far from your daughter, schedule a visit so the both of you can do dress shopping.
When it comes to bridesmaid mischief, you should interfere as long as it's appropriate. If you see that one of the bridesmaid's outfit choices can offend a lot of people, be sure to tell them off. You have the authority to keep them in line if their antics become too much at the wedding reception.
Research Traditions and Help Perfect the Invitation
Being the mother of the bride, you need to know the religious or cultural traditions you (or your daughter's partner) practice for weddings. It's your responsibility to include these as long as it's appropriate.
Aside from traditions, you can help with the invitations. In traditional weddings, the invitations come from the parents so you should encourage your daughter to seek your opinion. Depending on your circumstances, there are words or phrases that you need to change to make the invitations appropriate.
Planning the Guest List and Contacting Wedding Services
When your daughter is having trouble with money, you can intervene and help trim down her list. You can get your daughter to send her RSVPs to you instead. You can help her catalog the guests and share it in an online spreadsheet.
As the mother of the bride, you need to show your daughter the best service provider for her wedding. Some of these services include:
Caterers

Florists

Planners

Entertainers

Venue providers
Become the backup she needs and help her ask around for the best people who give these services. You can become your daughter's designated point of communication. You can mediate between your family and the groom's family when it comes to all things related to planning the wedding.
Help with the Wedding Item List and Provide an Extra Pair of Eyes
When your daughter gets confused about what they need for her wedding, you can step in and help her stay on the right path. Give her the foresight on the things that she might need before, during, and after the wedding. If your daughter plans to move to another place after the marriage, you can tell her to send the wedding gifts your way for safekeeping until she gets settled in with her husband.
You can point out things that she otherwise won't pay attention to. Help her with the fine print of vendor contracts and watch over all of the minor details to ensure that her wedding goes smoothly.
Claim the Role of the Gracious Hostess
The mother of the bride functions as the official hostess from the moment guests arrive until the end of the ceremony. You need to help make the guests feel more welcome by courteously greeting them. You're also tasked to host a dinner party for your family and the groom's before the wedding happens to foster a good relationship.
Doing this helps ease your daughter to the embrace of her soon-to-be husband's family.
Assist Dressing Up the Bride and Do Last-Minute Errands
As the mother of the bride, another great tradition passed down from generation to generation is placing the veil on your daughter and help her into the dress. It offers a bonding moment both of you can share and remember fondly for years to come. Additionally, you can help her deal with problems once the chaos of the wedding day starts.
Did a family member forget a passport at home? Did someone need deodorant but have no time to buy it? You can always help them and make sure that everything is in order for a perfect wedding day.
Escort Your Daughter at the Ceremony and Reception
When the father isn't available to escort your daughter down the aisle, you can do the job on your own instead. In some cultures like Jewish weddings, both parents need to accompany the bride. In a typical Christian wedding, you should have the first pew as your seat, and you should leave first once it's done.
Your place in the reception is at the parents' table if there's one. However, you should only do this once you're done greeting the guests and play your role as the hostess.
Get More Mother of Bride Advice Today!
A wedding is one of the most memorable moments of your daughter's life. It's a life-changing, magical experience that's sure to stick in her memories for years to come. Assuming these responsibilities is not an easy task, but seeing your daughter's happiness can make all the efforts worth it in the end.
It's not required to do all of these things, especially if your daughter is confident with her choices and can manage herself. Don't hesitate to tell her that you're always there to help her in case things don't go her way.
Do you need more help with home-building and other mom topics? Read more of our posts and learn things like making a family-friendly kitchen!