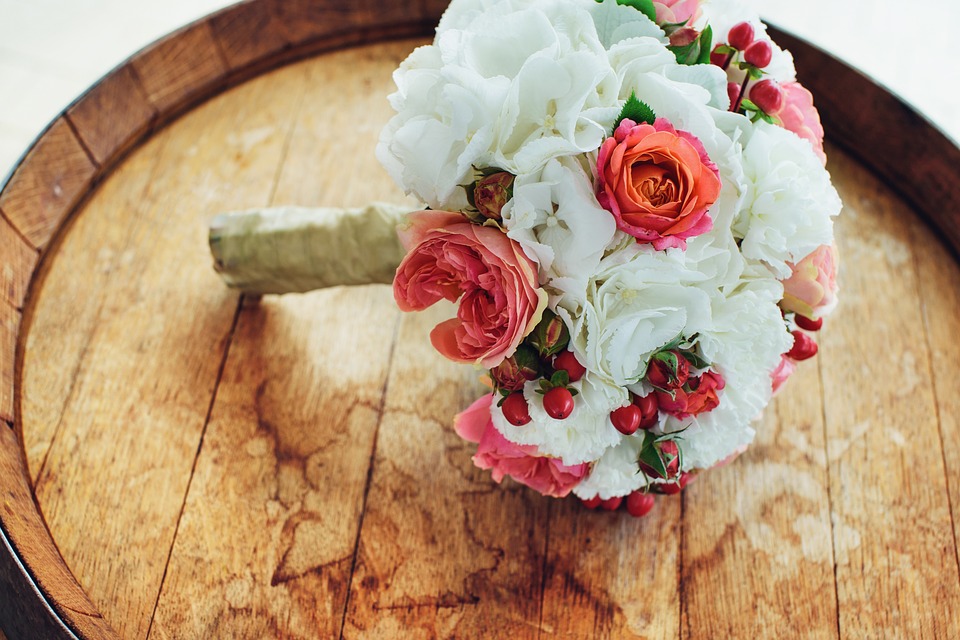 One of the biggest choices to make when it comes to the look of your wedding is the color scheme. While there are lots of things you can draw inspiration from, you can't go far wrong by looking at the color recommendations for the season when your wedding will be from the Pantone Color Institute.
Every year, Pantone, as the authorities on color for everything from fashion and interior design to business branding and website design, put forward one 'Color of the Year' (apart from in 2016, when they decided to have two), and they also release two palettes that work with this color for the spring/summer and autumn/winter seasons for that year.
If you are at a loss for where to begin in picking out theme colors and accents for your wedding, the Pantone palette of 12 colors for spring and summer of 2018 is well worth a visit. If you already have a vague idea of a color (for instance, you know you want pink), these palettes can also help you define a shade that is on-trend and beautiful.
Here are four of Pantone's picks for this season which lend themselves very well to weddings:
Ultra Violet
Ultra Violet tops the list as it was designated as the 2018 color of the year. As you might expect from the name, it is a purple, and can probably be best described as a jewel or tropical flower shade – bold and rich, with a lot of depth. This shade has a hint of exotic twilight skies and looks absolutely stunning in fabrics with a slight sheen – for instance for the ties and handkerchiefs for the men's suits for the bridal party. If you have young boys in your bridal party too, check out Boys Suits to find outfits for them to coordinate with the groomsmen!
The Pantone palettes are designed to work well together, as well as being fashionable colors to use as accents with neutrals like white. By using Ultra Violet as your main theme color and then accenting with another color from the palette, you can create very different feels. Pairing it with Arcadia, a turquoise-green, for instance, will create a tropical look full of vibrancy, whereas using Pink lavender will give a soft, romantic look.
Chili Oil
If you like the idea of a tasteful burgundy in your color scheme but aren't sure if that will work for summer, then take a look at Chili Oil. A rich brown-based red, it is sophisticated and attractive without being too dark or earthy to match the season. This is another color that looks wonderful with a sheen, and so is ideal for wedding accents in the bridal party's outfits, and also for things like napkins for your place settings.
Little Boy Blue
If you love blue and want to capture the feel of clear, summer skies for your wedding celebration, Little Boy Blue is a great choice. Fresh, expansive and vivid, this is a color that is designed to evoke a feeling of happiness and delight, and while it is quite a bold choice, it can be softened by pairing it with one of the softer colors from the palette if you so wish, such as Blooming Dahlia or Pink Lavender. If you are more a 'brighter the better' person, an interesting and cheerful choice could be to use Little Boy Blue with accents of the optimistic yellow from the palette, which is called Meadowlark.
Spring Crocus
This exotic fuchsia shade with slight blue tones is a wonderful choice if you want something that is very easy to incorporate into your flowers and yet isn't too 'girly'. While it has 'spring' in the name, this color is just as perfect for the summer season – reminiscent of tropical flowers, and with a real sense of luxury. Spring Crocus can be a good partner for Ultra Violet if you want to use a brighter accent shade without deviating from a purple color scheme. If you prefer contrast, it can look striking with the very brightest color in Pantone's palette – Lime Punch – too, or look almost royally opulent next to Arcadia.
Of course, there is no reason to stick rigidly to these fashion palettes. However, they may well help you come up with some combinations or ideas that you may not have thought of, and which could make your wedding look incredible!