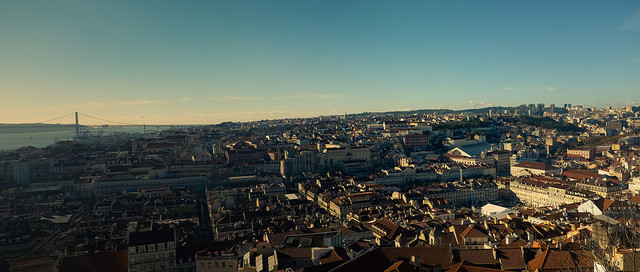 There's no shortage on worthwhile destinations in Portugal and it's tourism industry is growing quickly as more and more Europeans are avoiding high risk countries like Egypt and Tunisia. To inspire you here are 8 awesome destinations you should visit!
Coimbra: Conimbriga
Located around 10 miles (16 km) from Coimbra, the town of Conimbriga is among Portugal's best preserved and largest Roman sites. It's a vast complex and particularly impressive. There are a number of places of worship, a theater, and the ruin of a nobleman's villa together with its intricate baths, wall tiling, and even a heating system.
Also worth noting are the excellent mosaics that a number of the houses still maintain. The site's museum is also worthy of a visit, with its modest and yet well-displayed exhibits which help to heighten your comprehension of life in Conimbriga all those centuries ago.
Cascais: Boca do Inferno
The Boca do Inferno, which translates to "The Mouth of Hell", haughtily sits at the top of the natural attractions list in Portugal. The amazing chasm, located near to the city of Cascais, and overlooking the Atlantic Ocean, serves to attract on account of the roaring waves that crash mightily and persistently on the rocks.
A leisurely stroll along the strewn shores will provide plenty of opportunity to indulge in those scenic views. Then, for some city pleasures, head over to Cascais' coastal resort where you can enjoy tanning on the beach and indulge in some of the delightful Portuguese cuisines.
Porto Moniz: Douro River Valley
If you enjoy a fine port wine, then you already understand the delights that the Doura River Valley offers. Due to the wonderful climate, with its blue skies, consistent sunshine, and the clearest of waters, the valley is a haven for the production of the most luscious of cherries and grapes.
The Rio Douro, or River of Gold, stretches for 560 miles (900 km) and winds its way past spectacular olive groves, quintas (vineyards), and slopes bearing countless almond trees, which are all to be admired as you cruise along the tranquil waters. Do be sure to have at least a taste of the exquisite wines of the region and enjoy the local cuisines which are inordinately sumptuous and include spicy sausages, smoked hams, and also javali or wild boar, which arguably is the highlight on every menu.
Coimbra: University of Coimbra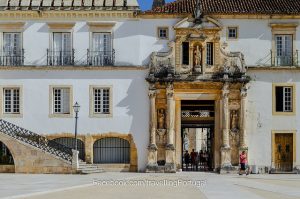 The University of Coimbra was established as long ago as the 13th century, making it Portugal's oldest university. Originally founded in 1290 in Lisbon, the university then relocated to its current place of residence. The university possesses a wonderful library and hosts resources that cover almost every conceivable field of study.
Furthermore, the sprawling botanical gardens are worthy of a visit, even if for a brief meander to soak in the historical scholastic atmosphere. Really, it comes as no surprise that some 20,000 students opt to enroll at Coimbra at any one time, and the university welcomes visitors on a daily basis.
Serra da Estrela: Parque Natural da Serra da Estrela
Since its beginnings in 1976, the park has attracted countless visitors. Brimming with emerald green waters that cut through the age-old valleys, the area offers idyllic hiking trails which pass through green pastures and over peaceful plateaus, right on up to rugged mountain tops. If you are up to it, go for the very tallest of Portuguese peaks – Torre – and behold the incredible alpine views. However, do remember that the entire locality is 'protected countryside' which dictates that no lighting of fires, picking of flowers, or camping is permissible.
Guimarães: Historic Centre of Guimarães
Guimarães, or "Cradle City" was the Portuguese historical capital, which takes real price in having such an illustrious past. Located in the northwestern region of Portugal, the town boasts of wonderful architecture which includes a castle from the 10th century together with numerous traditional buildings that were established between the 15th and the 19th centuries.
In 2012, the town was selected as European Capital of Culture by the Portuguese Government, and for obvious reason as it's a haven of almost everything you'd tend to associate with Portugal, both past and present. The Santa Clara Convent and monastery, Palace of the Duke of Braganca, and Church of Nossa Senhora da Oliveira all help to make Guimarães a place that really ought to be experienced.
Porto: Miramar
If it's an idyllic beach you're after, a rather enchanting, if somewhat isolated beach located around 7 miles (11 km) south of Porto is that of Miramar. And because it is isolated, you're almost guaranteed to be blessed with a huge swathe of the beach all to yourself, even during the summer months. Just down at the water's edge, sitting on a lonely rock, is a small white chapel, Capela do Senhor da Pedra, which merely adds to the beauty of this wonderfully tranquil beach in Portugal.
Guarda: Prehistoric Rock Art Sites in Côa Valley
Detected in Vila Nova de Foz Côa towards the north east of Portugal, this site represents a splendid collection of pre-historic Paleolithic rock engravings. The exact date of the engravings is far from clear but experts estimate it to be from 22,000 to 10,000 BC.
The engravings serve to provide many insights into early art works in Western Europe and involves typical Upper Paleolithic Era art including wild hulls, mountain goats, deer, horses, and Iron Age warriors holding lances and swords.
If you'd like some more places to visit check out The Crazy Tourist's guide on Portugal: 15 Best Places to Visit in Portugal.