In the first trimester maternity clothing is far from your mind. Your baby is still so small the outward signs of pregnancy haven't started to show. But by the time you reach the second trimester the need for a new wardrobe will become a priority.
Maternity clothing isn't just more comfortable once your belly starts to expand. It can also help you stay healthy during your pregnancy. Fortunately, there are a lot of cute, fashionable maternity clothing lines that make pregnancy more enjoyable.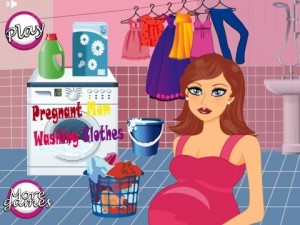 Support Socks
A lot of physical changes occur during pregnancy – some that are obvious and others that are happening underneath the surface. One surprising change is that your body begins producing 50% more blood and bodily fluids. That's one reason why swelling is common for pregnant women.
You can keep the blood circulating and minimize swelling with support socks, also known as compression socks. They are designed to provide graduated pressure from the ankles up the calves. The pressure helps to keep the blood flowing, reduce edema and relieve associated pain.
Supportive Bras
Your breasts begin changing much sooner than many women realize. All those raging hormones and expanding mammary glands can make breasts tender. They'll also begin growing for the first time since puberty. Usually, around the 16-week mark most women are outgrowing their regular bras.
Wearing a properly sized, supportive bra that's made for maternity can alleviate a lot of the discomfort. Your breasts will be heavier during and after pregnancy, so thicker straps and good construction are a must. Fit is another important factor. If you can find a pro bra fitter that specializes in maternity she'll probably become your new best friend.
Once you're in the third trimester, it's a good idea to go ahead and get a few nursing bras if you haven't already. As you get closer to delivery the milk ducts will start doing their thing, which can cause leaking. Nursing bras make a surprise leak less embarrassing and easier to clean.
Pants With Elastic Waistbands
We've all seen them (and probably secretly thought they wouldn't be so bad even if you weren't pregnant). Stretch waist pants are a must-have once your stomach begins to swell. This wonderful innovation makes wearing jeans possible even if you're well into the third trimester.
Dresses That Flow and Stretch
One amazing thing about dresses – they make it easy to use the bathroom. For that reason alone I stocked up on dresses when I was pregnant. Here are a few options to try:
Maxi Dresses – Want to cover up but still feel feminine? Then throw on a stretchy maxi dress. They're comfortable in more ways than one and show off your baby bump.
Empire Style Dresses – Dresses with an empire waistline are a pregnant girl's best friend. This style allows you to play up your blossoming bust line, and it's super comfortable since it's loose from the chest down.
Comfortable, Flat Shoes
Did you know that a woman's feet get about a half size bigger during pregnancy? It's a combination of hormones that loosen ligaments and the pressure from the added weight. Plus, swelling commonly occurs in the feet. Needless to say, shoes make a big difference in regards to comfort and getting around.
Open-toed shoes are nice because they can accommodate the growth and swelling. If it's cold out or you can't reach your toenails to paint them, athletic shoes with a stretchy upper are the next best thing. Ballet flats and loafers with a supportive sole are also good options that can be worn in any season.
Super Soft Leggings
Women today are lucky that leggings are a fashion staple. You probably have a pair or two already that can be worn even if you're well beyond your regular size. It's worth the investment to stock up on a few extra pairs that are made with a super soft, luxurious fabric. You can wear them while lounging around the house or pair them with a flowing top for a comfortable, yet fashionable ensemble.
No matter what maternity clothes you choose it's important not to lose your personal style. Just because you're sharing your body with your baby that doesn't mean you have to abandon fashion. Who knows – you may add some of the clothes to your regular wardrobe!