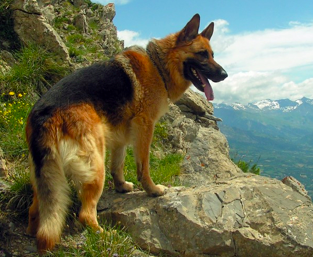 Many dogs love to enjoy their nap time on the floor. In the warmer months, this enables them to stay cooler and it allows them to be positioned to keep an eye on their family members and avoid missing any excitement (or food). Unfortunately, for many older dogs, this becomes quite uncomfortable and eventually has an impact on the health of their ligaments and joints. After a time, it can contribute to the development of arthritis, hip and elbow dysplasia, and other common bone disorders. These conditions make it very painful for your pets to move around, sit down, get up, and sleep, so it's important that pet parents find a solution!
Some pet owners solve the problem by allowing their pets to sleep in their bed or on the furniture. This is generally bad idea for a couple of reasons. Many dog professionals suggest that co-sleeping fuels possessiveness and aggression in dogs, but more often, it's simply disruptive and prevents humans and dogs from getting the rest they need. The last thing you want to be doing after a long day is struggling to be comfortable and drool-free on your own bed. Plus, inhaling pet dander and fur all night isn't exactly ideal for you won health.
Another issue is the mattress. An older dog, or any breed particularly susceptible to joint diseases, should really have an orthopedic mattress like one from Mammoth Outlet designed specifically for them.
A retailer specializing in dog products will offer quality orthopedic beds that are designed to meet the needs of different breeds. These are the manufacturers who love and appreciate canines and truly want to invest in creating beds that will actually improve their quality of life. The best designs come in varying sizes and shapes, offer removable, washable covers that are resistant to stains, odors and mildew, and are water repellent. This helps to keep both the dog and the bed cleaner and fresher between washes! The Velcro closures on Mammoth beds make them particularly long-lasting, since zippers break quickly, while ensuring that they're easy to remove and wash.
Even dogs without issues like dysplasia, arthritis or other skeletal diseases will enjoy the virgin memory foam fill, because it's made to hug the body and erase any feelings of pressure as it distributes weight evenly. Beds for large breeds are extremely durable and made with an extra thick core to prevent the flattening of the mattress over time. All of the materials are extremely durable since they're made with materials that include canvas, Cordura and micro-fibers, and in the case of Mammoth Outlet, they come with a lifetime warranty! These comfortable options can withstand the normal circling,digging and rolling around of their canine occupants.
Companies that know what they're doing will have done research to put together a collection that out-performs the best of what the industry has to offer. Read testimonials and reviews of the company and the bed to make certain the investment will do its best for your pup!