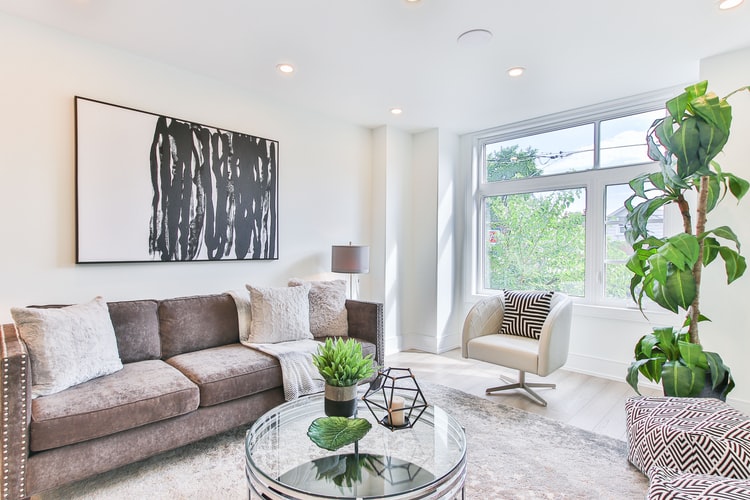 Every homeowner wants their home to look expensive, however, not all of us can afford actual bank-breaking pieces. So we spend hours looking at blogs and magazines to find cost-effective inspiration. Well, you can stop now. With the following tips, you can transform your ordinary home into a palace fit for royalty all on a budget! Start by making your home organized, clean and tidy, make your surfaces shine and polish all the metal. From there, you can start adding some accent pieces that will show that you're an elegant person with expensive taste. Need some inspo? Here's how to glam up your home without too much fuss:
Upgrade your lighting
Let's start from the top and tackle your ceiling. Lighting fixtures are a necessity in every home, but they are also jewelry to your ceiling and can add a classy aura to your space. If you go for a classic statement chandelier, your interior will instantly look like a glam Hollywood hotel. Or you can opt for an ornamental/sculptural ceiling light for a more masculine take on luxury and glamour. And don't forget to treat your dining room to something very eccentric—it will make every dinner classy yet with an artistic flair. When it comes to selecting lighting fixtures, you can have endless possibilities.
Opt for luxurious fabrics
Imagine the feeling of sumptuous satin on your skin. Ahhh, feels pretty nice, no? Well, you can have that same luxury feeling in your home by reupholstering some of your furniture pieces. Think rich fabrics like velvet, silk and satin which can always spice up any furniture piece with a touch of glamour. And as you can see, you don't even have to spend money on new pieces as long as you find a reliable upholsterer.
Show off your vanity
Try to name a piece of furniture that's more luxurious, glamorous and timeless than a vanity with a mirror. You can't! A mirrored vanity will not only give your bedroom a classic and glam look but also brighten up the space and make it look larger. Make sure to light it up well to make it truly come to life and spread its charm. You can reach for wall sconces and a chandelier as your lighting choices. Complete the look of your vanity corner with a comfy velvet chair and a faux fur rug.
Accessorize with a rug
Speaking of rugs, every room in the house deserves a nice rug, even if you have lux hardwood flooring. A rug will not only add warmth to your space but also boost color and texture, anchor your room and tie everything together. But, make sure to avoid anything cheap and too small. A larger wool rug from the Miss Amara collection will fit perfectly into every space and provide pleasure to your feet and eyes without being tacky or too glitz. With a piece like that, even hardcore minimalists will enjoy a nice and soft rug and add a touch of glam and luxury to their homes.
Go bold with art
Every glamorous house has at least one statement piece of art that adds a ton of character and charm to the room. All you need to pull everything together is one striking art piece. Choose something that captivates attention, but also speaks personally to you—you'll have to look at it every day, after all. And don't be scared to go oversized if you want to bring life to your space with art.
If you're scared your art will look tacky, you can try this tactic: add one bold piece to your entrance to wow everyone from the second one, make a feature wall with a bunch of smaller prints and treat one room to an interesting sculpture. This route will show that you know what you're doing even if all your art came from a flea market.
Add some bling
Accentuate your space with a few gilded accents to add an extra touch of elegance. Gold is always on-trend—it's rich, it's exciting and it works well with any interior design style. To add gold details into your home without spending a fortune, you can revive your old furniture with gold spray paint or swap your decorative pillows or curtains with fabrics with gold accents. Even very cheap things like vases, accessory trays and drawer handles can look expensive with a coat of gold paint!
As long as you keep things under control and don't overdo it with these aforementioned tips and details, your home will look glamorous, luxurious without a hint of tackiness.