Let's get serious. How often do you think about the importance of your bedroom décor and the beds in your home? Our bedroom is a special place where we can switch off and recharge from our busy lives and cuddle with the ones we love. However, it's sad that often it's where we spend the least money on because kitchens, bathrooms and sitting rooms take all our attention. However, with you being here means you want to spruce up your bedroom – or at least change something therein.
Let's take a look at some of the best bedroom design trends that can completely change your bedroom look.
Bedroom personalisation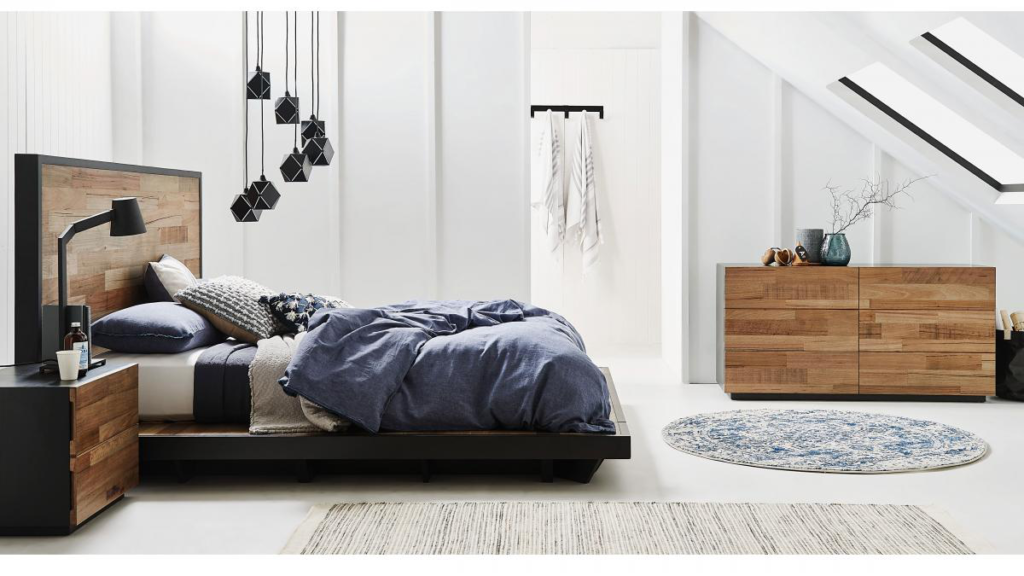 The desire for the bedroom to be designed with more individuality is getting stronger. The bedroom should become your most personable space. To achieve this, you can start by mixing and matching bedroom finishes. Experiment with a variation of textures to create a bespoke look that incorporates the latest fashions.
Pictured above: Abode Bedroom Collection
A floating base and wide build create this island-like retreat, perfect for those Sunday sleep-ins. The mixed Australian hardwood bedhead features a patchwork of panels that highlights the timber's natural grain, which is further enhanced by a choice of stain options. You can custom-size the height for a minimalist look.Key Features
Fitted furniture and storage
Fitted furniture creates significantly more storage space thanks to the tailor-made design, which creates up to three times more space based on application, fitted furniture has started to get huge in 2018. Beds of this type provide an undefined level of creativity when deciding on the design and interior arrangement.
Pictured above: Halo bed frame with storage
The Halo Drawer Bed Frame fuses soft fabric upholstery, button stud detailing plus built-in discrete storage options to offer a relaxed and contemporary bed setting designed for modern lifestyles. The Halo range of bedroom furniture includes single and twin drawer bed frames in single, king single, double, queen and king with charcoal, beige or grey fabric upholstery. The Halo is exclusive to Domayne.
Bedroom meets luxury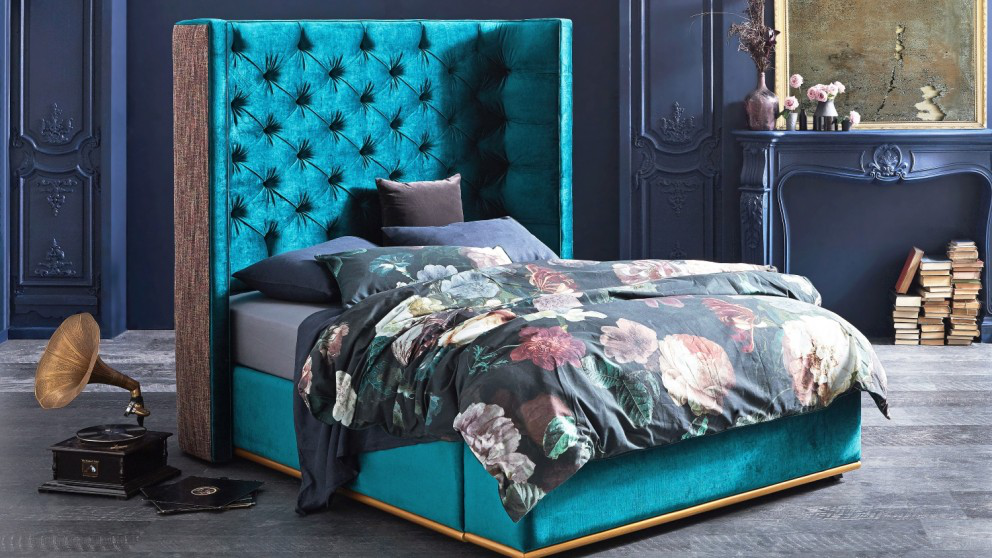 Indulgent yet practical features such as pull-out storage that disappears when not in use, slim line link drawer solutions, felt-lining and leather interior inserts are a prerequisite in the bedroom today. Creating an added sense of luxury via form and function is where we've effectively seen the most development in 2018 moving forward. Integral lighting systems and simple touch control operation, along with custom-made accessory space for accessories and integrated media device power are all now key considerations for the bedroom.
Pic
The fresh white finish of the Felix Package is contrasted against the black legs providing a stylish monochromatic look.
The Felix offers plenty of storage options with two bedside tables and a 5-drawer tallboy giving you plenty of room for your essentials.
The queen bed, tallboy and bedside tables all stand poised on their thin angular wire legs creating a visual motif across the package.
Enjoy the rounded edges mitred edges of the headboard, bedside tables and tallboy as they combine to give your space an effortlessly clean look.
This package includes 1 queen bed, 2 bedside tables and 1 tallboy. 
Pictured: Kara Fabric Bed Frame
The Kara Fabric Bed Frame is a sophisticated and dramatic bed frame that demands attention. The decadent bed setting perfect for posh individuals boasts a tall and exaggerated winged bedhead with quilted detailing and fabric upholstery. The bed's statement design easily becomes the centrepiece of any bedroom.
End Note
The bedroom is has become an even more important part of any home these days – we're spending more time in our beds and we're doing more activities in it since we treat it as our personal haven; as a place of relaxation. Looking to spruce up your bedroom or upgrade your bed? Check out the beds collection at Domayne and find that special bed frame, mattress or accessories to create your own haven.