The 1990s was a revolutionary and exciting time for games and toys. These were the days when board games and video games still shared equal spotlight in the family room, and the era when portable gaming really took off. Innovative designs were integrated into simple, classic concepts and made even better. If you want to relive your own '90s childhood, or introduce your kids to the pastimes that you loved, here are a few games and toys from the 1990s that you can still buy.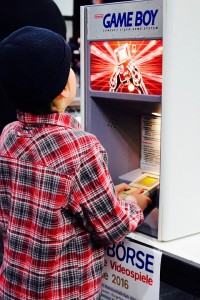 Tamagotchi
Having a pet isn't new, but having a digital one sure was. This widely popular digital toy was one of the first to engage both boys and girls equally. This was also one of the first portable gaming systems, and was so well made that many will still function even after years of inactivity. You can find the classic Tamagotchis on EBay for a variety of prices, or mix new with old and download the modern cell phone app.
The Super Soaker 50
One of the few times that outdoor sports made a real splash (pun intended), was with the Super Soaker series. These innovative expansions on the simple water pistol were a sure-fire way (again, pun intended) to get the kids out of the house on a summer afternoon. The Super Soaker 50 was created in 1989, but was popular throughout the following decade. This vintage item is popular and expensive, appealing equally to boy and girls, kids and grownups, and typically costing over $100.
Crossfire
This board game is a combination of table-top and video game, and very cleverly played upon the "fight game" phenomenon that was so popular with arcade and console games at the time. There are still many entertainment companies, such as Breaking Games, that still follow this trend of producing similar board and video-type crossovers. This game is now a Collector's Item valued at almost $400, a testament to its popularity.
Nintendo 64 or Gameboy
When it came to home gaming systems, Nintendo was the unmistakable ruler of the 1990s. As if the console wasn't enough, with titles like Starfox and Ocarina of Time, we also had the Gameboy. The era of Role Playing and Portable digital gaming had begun, and Nintendo was its first ambassador. Plenty of the old games are still available on the newer Nintendo consoles as classic compilations, and older Nintendo 64 systems (along with several games) are still available online, often for the same prices for which you originally bought them.
Furby
The Furby phenomenon dates back to the 1990s and still continues on its adorable way to the present day. Recent productions like Furbacca, the very first Star Wars furby, are currently available for retail sales. This toy has retained its popularity with two simple but very effective characteristics; versatility and cuteness. Available in a plethora of colors and themes, these fuzzy little guys are a cheerful, low-maintenance addition to any desktop. Hasboro still makes and sells them, and you can find vintage ones online or at your neighborhood garage sale for a variety of prices.
Certain trends come and go, as anyone who saw the big hair of the 1980s will tell you. The quality games that were genuinely fun and innovative are the ones that withstand the test of time. Don't be afraid to enjoy that Nintendo 64 system along with your kids, or invest in that grown-up income to re-live your glory days as a Supersoaker Badass. You're a child of the 1990s. Put that Furby on your desk with pride!
Thomas Black is a keen writer who draws inspiration from daily life with 3 kids. His articles mostly appear on parenting and lifestyle blogs.