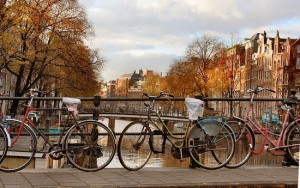 Amsterdam is the capital of the Netherlands and is famous for picturesque canals, coffees shops, and museums. While there is plenty of adult-only fun to be had, Amsterdam has quite a bit of family-friendly options as well. Here a few options for you and your family.
A Boat Tour
One of the things Amsterdam is known for is its beautiful and winding canals. One of the best ways to do this with your family is to take a boat tour. Some options are to take the Golden Age tour which shows the historical center, the Architecture tour, or the City Highlights.
Museums
There are multiple museums to see with a range of topics including art, history, and culture. If you have older children, check out the infamous Anne Frank house or the Resistance Museum that shows what life was like during the Nazi occupation. If you are a family that appreciates art there is no end of amazing art to see. Check out the Van Gogh Museum, the Stedelijk museum, or the Rijksmuseum home of Rembrandts and Vermeers. For younger children check out the Pieter Vermeulen Museum.
Parks
The largest and most famous park is Vondelpark. It has attractive walkways, a lake with paddle boats, a café where children can cook their own food and parents can drink coffee, and a playground. There is something for families with children of all ages here. Amstelpark is in the southern part of the city and has a petting zoo, gardens, and a playground. If you are looking for a smaller park, Sarphatipark has a nice pond for feeding ducks or have a family picnic. If you are visiting in the summer, try hitting up a cultural festival in Oosterpark or let your kids check out the wading pool.
Rent Bikes
Amsterdam is a bike-friendly city and one the best ways to see it is to rent a bike. You can do a self-guided tour or follow a guide around. If you have small children that may tire out easily, try renting a Bakfiet. It has a large Basket in the front that small children can sit in. They will love seeing the city from this view and you get to experience Amsterdam like a local.
Kid-Friendly Restaurants
Finding places to eat with children while traveling abroad can be challenging, but Amsterdam offers a variety of kid-friendly spots. Pancakes! Amsterdam serves savory or sweet pancakes. La Perla offers a variety of pizzas. If you are traveling with a big family that each want something different to eat, try Café de Reiger. They offer vegetarian ravioli, steak frites, ribs, and seafood dishes.
Amsterdam has a lot more to offer than marijuana cafes and the Red Light District. When traveling here with you family, you can explore the canal on a boat tour, learn in museums, connect with nature in parks, or bike through the city. There are many things to do in Amsterdam as a family.