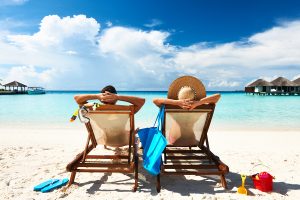 Owning a home comes with a wide array of benefits and freedoms. One of these assets of being a person of property is the ability to decorate the outside of your house for the holidays how you see fit (to the limits of local ordinances of course.)
However, with great freedom comes great responsibility. Putting up outdoor holiday decorations for the first time requires a little bit of preparation and forethought. Without them, a home risks damage, drama, or worse.
Alas, there is no need to worry, so long as you abide by the following tips for  first time home holiday decorating:
Stay Safe
In the movies, a failure to be safe when putting up outdoor decorations leads to humorous calamity. In real life, however, neglecting to take personal safety seriously will only lead to damage, injury, or even worse. Make sure ladders are securely placed and lights being actively strung up are not connected to a power source. If you're getting on the roof, wear the right footwear and never work alone.
Factor In the Local Riff Raff
Even the best neighbourhoods are bound to have a few bad apples bent on slashing inflatable lawn ornaments and popping lights out with BB guns. Kids are just going to be fools sometimes, there's not much else to it. Security systems are ideal, and not uncommon. According to securitychoice.com, nearly 7 million households utilize ADT, with many taking advantage of mobile device integration to have live feed footage of their property wherever they are. Motion detecting lights are also good deterrents against attempts to damage or steal your holiday decorations.
Check with Neighbours
Inflatable snow globes and other lawn ornaments are increasingly popular holiday decor. However, a series or sequence of light strings will always be the go-to classic Christmas decoration of choice for households across the western hemisphere. These array of bright and oftentimes flashing green, red, blue, white, and yellow lights can be beautiful, but they can also be an eyesore depending on the vantage point. It's a smart policy to check with your immediate neighbours to see if they'd have a problem sleeping or watching TV with bright flashing lights across the way. Compromise to lessen the annoyance; no point making bad blood over holiday cheer.
Stay Coordinated
Suburbia is in no short supply of flat out ugly decoration setups during the holiday season. The failure to make their efforts lead to an eye appealing result boils down to a lack of harmony. Stick to a colour theme and abide by the golden rule of decorating: less is more.
Schedule (and Stick to) a Take Down Day
Time flies. Before we know it, the holidays are over and it's a whole new year. The decorations stay up longer than they ought to; the second weekend of the new year is a good baseline for when it's time to take down the festive decor. Make a point to pick a specific day to take down the lights, deflate the reindeer, and remove the electric candles from the windows. Don't forget the tree too, of course. This helps to prevent rolling into February with Father Christmas still on the roof.
Homeownership allows for the freedom to set up your own winter wonderland on the exterior of your house and around the front lawn. First time outdoor holiday home decorators ought to let their creative juices flow, but not without due diligence. Getting the project put up and taken down responsibly is a sign of a smart and thoughtful neighbour.