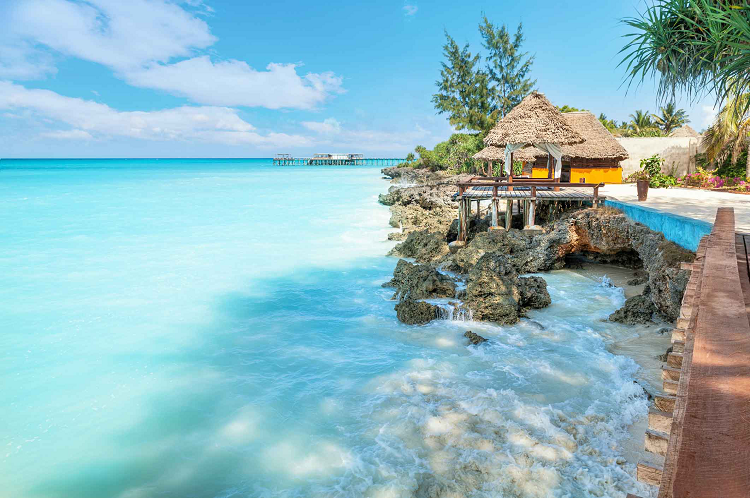 The popular island of Zanzibar has been in the news recently, thanks largely to its eye-catching accommodation options and architecture that boasts a unique meld of atmospheric décor and strong cultural heritage.
This is just one of the many reasons why you should visit Zanzibar, particularly if you're considering an adventurous trip; it's home to some of the most fascinating and beautiful spots in the world.
We'll take a look at some of these below, while asking why they offer such an enriching experience for travellers from across all corners of the globe.
1. The Livingstone Beach in Stone Town
While Zanzibar is a sun-kissed island with numerous beaches, one in particularly stands out for its immense energy and stunning ocean setting- and it's perfect for families too.
This is the iconic Livingstone Beach in Stone Town, which may not be quite as idyllic as those located outside of the city but boasts an immeasurable charm that reflects the nature of the locals.
The surrounding ocean is particularly beguiling here, while the beach comes to life as the sun sets and locals gather in their hundreds. At this time, you can also see people perform acrobatics and capoeira in front of the popular Livingstone Beach Restaurant, and the sheer energy and vibrancy of the location is incredibly engaging.
If you do visit this beach, you're guaranteed to have fun whilst sampling the true heritage and natural beauty of Zanzibar. Just don't be afraid to talk to the locals and engage them, as they're extremely welcoming to those from overseas!
2. The Darajani Market
Who doesn't love shopping? While this may be fun in cosmopolitan cities like London, it provides an even more immersive experience in the type of markets that are incredibly popular in Zanzibar.
The Darajani Market is particularly impressive, as this quaint and charming setting provides a genuinely sensorial shopping experience and one that serves as the very heartbeat of the iconic Stone Town.
Not only is this market genuinely beguiling, but it also hosts local vendors selling a wide range of items from clothing and mobile handsets to oil and fresh food produce. If you go early in the morning, you may even catch the so-called 'big fish' auction whilst basking in the glorious rays of the sun.
The market also boasts a rich street-food culture, with local samosas and chapatis as delicious as the marketplace is enthralling.
3. Forodhani Gardens
If you're searching around looking for Zanzibar holiday options from trusted experts, you'll note that a trip to the Forodhani Gardens represents one of the most popular excursions on offer.
The Forodhani Gardens adorn the seafront of Stone Town, where a host of street vendors and food outlets set out their stalls against the backdrop of the island's stunning shores and beautiful skyline.
Here you can head out for a romantic walk with your loved, while basking in the sea views and sampling foods such as fruit, grilled maize and Zanzibar's famed (and locally sourced) pizzas!
This area is another that's particularly beguiling at sunset, while licensing laws means that you can also grab a delicious and exotic cocktail during an evening visit!